Thank You to Our Volunteers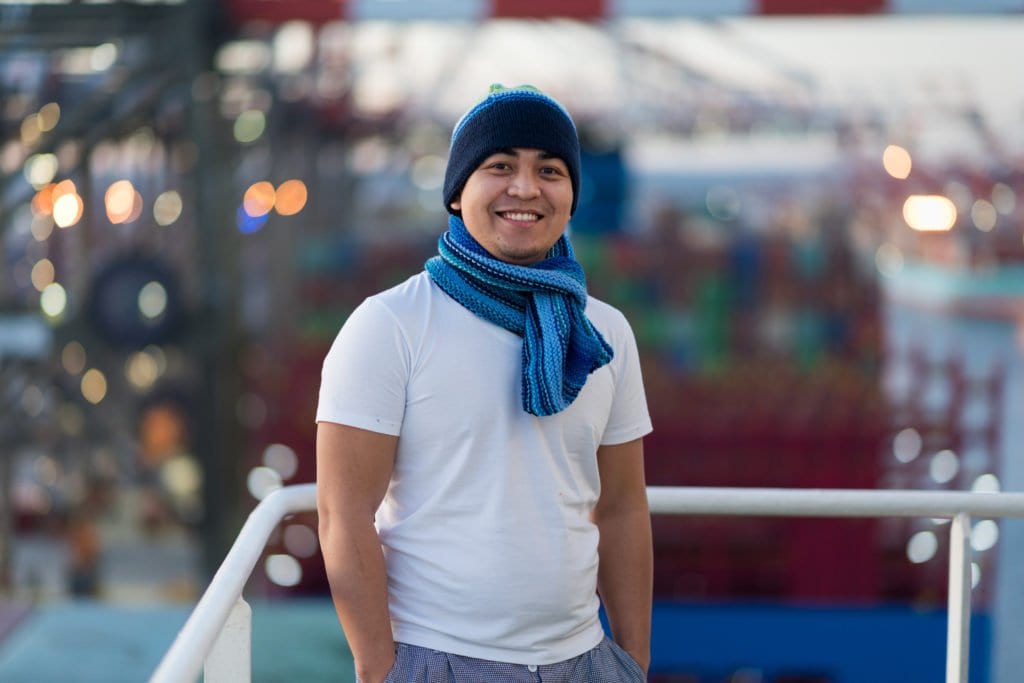 During a visit from Houston at the height of the holiday season this year, SCI's Director of Maritime Education, Captain Stephen Polk, assisted with the delivery of Christmas at Sea (CAS) Santa Sacks to seafarers on ships docked in Port Newark. In September, Port Newark Ship Welfare Visitors Cora Koehler, MDiv and Michelle McWilliams, MSW, LSW labored behind the scenes assembling swag bags, constructing backdrops and registering guests in Maine for our Mountain Challenge event. Two days after working the biennial fundraiser, Michelle co-presented at a workshop on bullying and harassment held at SUNY Maritime with retired Director of SCI's Center for Seafarers' Rights Doug Stevenson.
Although SCI was established almost 200 years ago, our culture often resembles an emerging start-up with employees wearing a whole host of hats.We also serve a considerable stretch of territory. In 2019, pastoral staff located in Port Newark visited 10,964 seafarers on board ships calling on the Port of NY & NJ, and our Christmas at Sea program delivered 15,126 knitted gifts to mariners on the Gulf and inland rivers, the Port of NY & NJ, and Staten Island. Almost 3,000 mariners received training at our facilities in Paducah and Houston. The number of maritime workers met or assisted by chaplains located along 8,000 miles of navigable U.S. inland waterways and the Houston Ship Channel was in line with our 2018 numbers of 1,606.
How are we able to reach these astounding numbers with only 35 employees distributed among four brick-and-mortar buildings?
We have incredible volunteers! Our corps of volunteers range from the Chief Operations Officer at Genco Shipping & Trading to an 80-year-old knitting grandmother in North Dakota to a retired Southern Illinois University professor. The entire executive staff of United States Maritime Alliance, Ltd., including CEO David Adams, consistently participates in Packing Day at Port Newark. Forty highly-trained volunteer Chaplain Associates bolster the capabilities and response time of our two full-time River Chaplains. Outcomes like the delivery of CAS packages this time of year clearly affirm the value of our volunteers' efforts.
"The needlework is beautiful and the idea that people would take the time to make these gifts by hand for people they don't know is the personification of the true spirit of Christmas," says Kirby Port Captain Joe Higgins in Staten Island. "Members of our crews come from all over — Boston, Philadelphia, the Carolinas, Maine, Puerto Rico. We even have a U.S. citizen who lives in the Netherlands. Believe me: Tugboat crews will wear these knits to death!"
"It gets stinging cold out there at 3:00 in the morning," says Kirby Tugboat AB Deckhand Byron. "It means so much that in addition to the company we work for, there are people out there who care about us and are thinking of us at Christmas."
Here is a note received from the Gulf:
"Hi, this is Chris Eberlein, Operations Manager at Parker Towing Company. Recently, Chaplain Rhoades, visited a few of our vessels while at McDuffie State Docks. While there, the Chaplain delivered Christmas packages for EVERY vessel in our fleet! Our crews really enjoyed the boxes and appreciate the fact that folks think about the mariners during the holidays. Thank you for what you do for the mariners."
Here is another from a ship:
"Dear Mr. David M. Rider and All Volunteers, Friends at the Seaman's Church Institute!
The whole Crew of ch/t "Stolt Bobcat" very much appreciate Your care and respect provided to us. We are All thankful to You for a kind attention and appreciation of our job at sea.
All presents, which were received in New York on 26-November-2019 were presented to the crew. A handmade caps and scarfs will warm us in a Stormy Winter Atlantic and always will remind about All of You, who cares and spent time and gives us such appreciation.
We wish All of You a Merry X-mas and Prosperous New Year. Let's New year will bring only positive things and Peace in entire World. Please, pass our appreciation to All People involved.
Sincerely,
Captain and Crew of ch/t "Stolt Bobcat"
The lasting impact of this program is evident in the many stories that we hear from mariners. As an example, CAS Manager Joanne Bartosik received a call this fall from the wife of a mariner who had held onto his lucky CAS knitted gift for 35 years. The cap had finally disintegrated in the wash, and the mariner's wife was fretting about finding an appropriate replacement.
"We accept working on Christmas. It's part of the business," says Byron. "But, the warmth and kindness from strangers at this time means a lot."