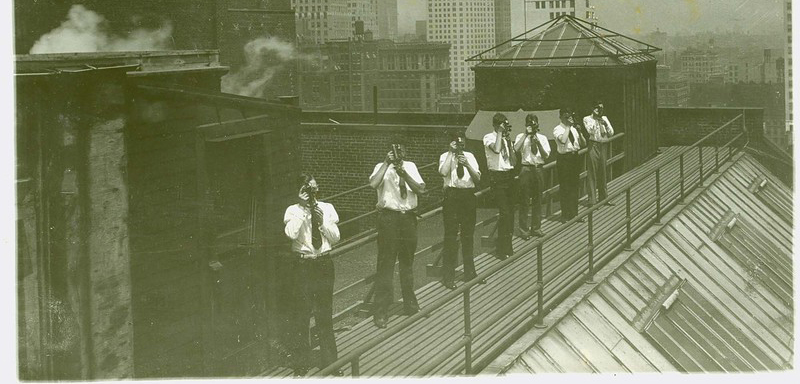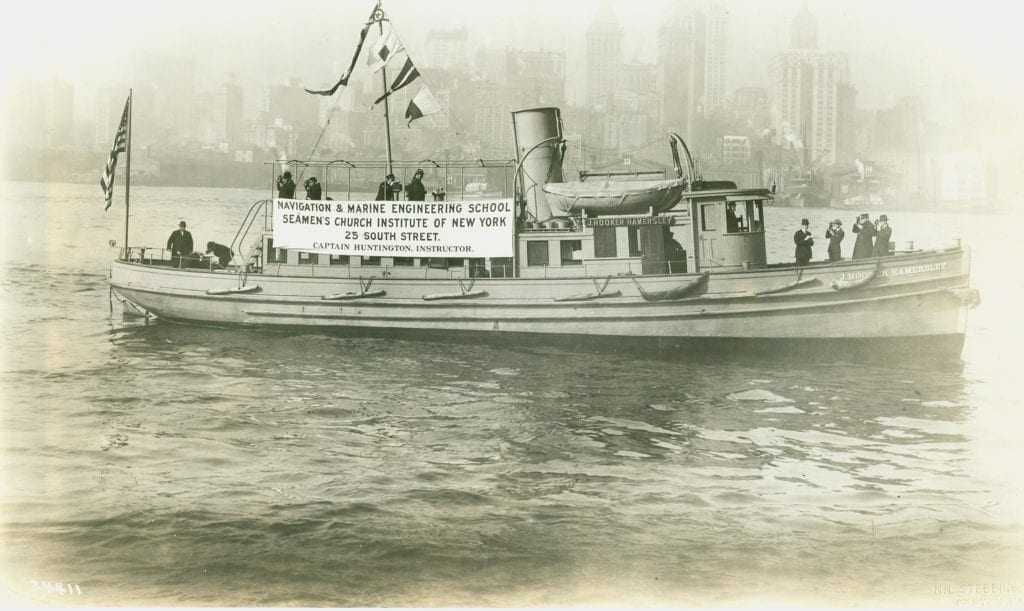 Mariner Care, Mariner Training & Mariner Advocacy
In 1834, New York was a bustling port city receiving ships laden with cargo from around the world that powered America's growing economy. Seafarers were vital to this trade, but these men, mostly first-generation Americans, recent immigrants from Europe, or foreign nationals, were ignored by the land-dwellers or were taken advantage of by "crimps" and unscrupulous boarding houses that saw these seafarers as easy prey. The Seamen's Church Institute recognized an opportunity and embraced it as a mission, to offer these seafarers pastoral care (spiritual, emotional, and physical care) as well as provide for self-advancement through continuing mariner education training.
Our history at the Seamen's Church Institute has been a call to "safety first" in all aspects of our work. Through our work, we endeavor to make the maritime environment safer for all seafarers and mariners. For nearly 200 years, SCI has met the emerging needs of mariners by improving upon existing models and through embracing new technologies to care for this often overlooked and underappreciated population of critical workers. Seafarer centers, medical and dental clinics, telemedicine via radio, skillset classes, advanced simulator training, admiralty lawyers focused on protecting seafarer rights, mental and occupational health studies, and a corps of full-time, part-time, and non-stipendiary chaplains have served as a testimony to our mission. Since 1834, SCI has stood at the forefront in providing relief and support for mariners in need of assistance as they maintain our critical trade and transportation infrastructure across the oceans and along the rivers and coastal waterways.

For additional information and images from SCI's history, please visit our professional archive library.
Historical Highlights of SCI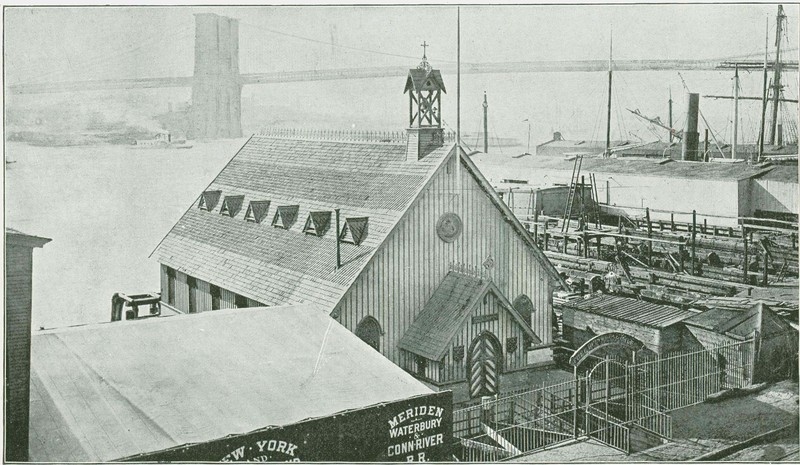 1834: SCI is founded as the Young Men's Church Missionary Society.
1843-1844: SCI appoints the Reverend Benjamin C. C. Parker first Chaplain and assigns him to preside over impromptu church services for seafarers above a grog shop while the Floating Church of Our Saviour is built and docked at the foot of Pike Street on the East River to provide a place of worship where seafarers could feel comfortable and welcome.
1846: SCI builds the Floating Church of the Holy Comforter at the foot of Dey Street on the North (Hudson) River to accommodate seafarers and local residents.
1852: SCI builds a reading room for mariners at Coenties Slip and appoints the Reverend E. F. Remington Missionary-at-Large.
1867: Alfred Thayer Mahan joins SCI's Board of Managers and serves for 47 years until his death in 1914. Mahan will rise to the rank of Rear-Admiral in the United States Navy and become America's foremost naval strategist and the world's great authority on sea power. He served as Lay Vice-President of the Board and on various committees during his long tenure, including the Building Committee.
1868: SCI builds its first mission house at 34 Pike Street in the bustling New York sailortown.
1894: SCI opens a sailors' boardinghouse at 52 Market Street to compete with neighboring houses. SCI closed the boardinghouse in 1907 as they turned attention and resources towards the construction of 25 South Street.
1896: The Joint Conference for the Protection of Seamen, a consortium of seafarers' missions and maritime law practitioners, was founded under the leadership of SCI administrators J. Augustus Johnson and the Rev. Archibald R. Mansfield.
1898: SCI appoints the Reverend Archibald R. Mansfield as the first Superintendent of the Institute.
1898: The Christmas at Sea program begins, supporting mariners during the Spanish-American War.
1899: SCI begins training merchant seafarers, marking the origins of Maritime Education at SCI.
1906: The Society formally changes its name to the Seamen's Church Institute of New York.
1908: Franklin D. Roosevelt joins SCI 's Board, on which he remains until his death in 1945.
1912: SCI lays the cornerstone of its new "million-dollar home for seamen" on April 15th, the morning of the sinking of RMS Titanic. Dignitaries including New York City's mayor deliver speeches mourning the disaster as news trickles into the city. Upon arrival in New York aboard Carpathia, SCI delivers clothing and kits to surviving crew members.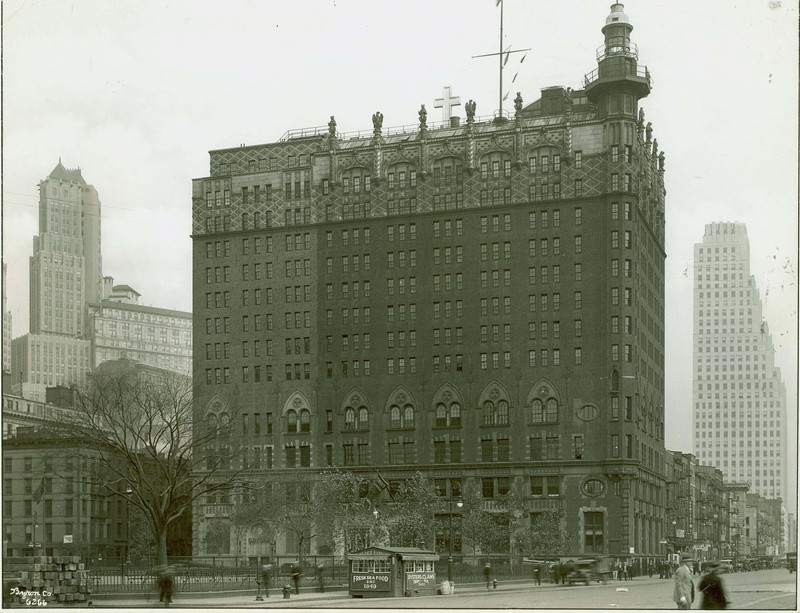 1913: SCI opens the doors of its 12-story building at 25 South Street in lower Manhattan, with room to house up to 580 seafarers in dormitory-style rooms. The headquarters also housed an employment bureau, savings bank, library, restaurant, and a chapel.
1917: In response to demands for trained seafarers during World War I, SCI revamps its Navigation and Marine Engineering School. Instruction included nautical astronomy, navigation, marine engineering, mathematics, seamanship, and signaling.
1920: Janet Lord Roper, SCI's "House Mother", begins running the Missing Seamen's Bureau in response to a high volume of requests from family members for help locating seafarers who had been displaced or killed during wartime.
1920: SCI launches the Medico rooftop radio doctor's office and begins to receive calls for medical assistance from ships at sea over SCI's radio service KDKF.
1924: SCI opens an emergency homeless shelter for seafarers affected by the shipping industry's economic downturn. SCI's Employment Bureau attempts to keep up with overflowing demand from unemployed seafarers desperate for work.
1925: SCI opens an outpatient Medical Clinic for seafarers at 25 South Street.
1927: The federal government takes over operations of SCI's post office for seafarers who had no other permanent address, receiving as much mail per year as a town of 20,000 people.
1931: SCI opens a Dental and Eye Clinic at 25 South Street, providing exams and procedures for active merchant seafarers, many of whom had been turned down for jobs at sea due to poor teeth or eyesight.
1939-1941: SCI opens a clubroom for Dutch, Belgian, and British seamen in exile from their home countries due to World War II and welcomed 256 British children refugees while they waited to find temporary placement with American families.
1942: SCI sent its youngest chaplain, the Reverend Leroy Lawson, to serve as the first Chaplain to the Maritime Service, a position newly created to provide spiritual aid to seafarers in the merchant marine during wartime.
1942: SCI's Merchant Marine School expands all the way through the 13th-story roof at 25 South Street to provide rooftop instruction and pilothouse training to meet increasing wartime demand for qualified seafarers.
1942-1945: Survivors from dozens of crews from torpedoed merchant vessels arrive at 25 South Street for refuge. SCI would continue to host survivors of allied vessels through the end of the war.
1943: The Liberty ship SS Janet Lord Roper launches from the Bethlehem-Fairfield shipyard in Baltimore, Maryland.
1943-1945: SCI's Women's Council knitted thousands of sweaters, socks, and other woolen articles for seafarers, as donations of toiletries and overcoats poured in from around the country.
1944: The Liberty ship SS Archibald R. Mansfield launches from the New England Shipbuilding Yard in Portland, Maine.
1954: SCI opens a Club Room for Alcoholic Seamen at 25 South Street in coordination with the Alcoholics Assistance Bureau.
1961: SCI dedicates its new International Seafarers' Center in Port Newark, New Jersey.
1968: SCI's New York City headquarters moves to an 18-story building at 15 State Street. Services include a chapel, hotel rooms, restaurant and bar, reading room, post office, and a credit bureau.
1978: SCI hosts its first Silver Bell Awards Dinner, an annual event to honor an individual or group for outstanding leadership in the maritime community, significant commitment to merchant mariners, and engagement with issues facing the maritime industry.
1982: The Center for Seafarers' Rights is established.
1991: SCI's New York City headquarters moves to 241 Water Street. The building housed a chapel, meeting rooms, legal aid offices, classrooms for maritime education and training, an art gallery, a cafeteria, and internet access and phones for mariners' use.
1997: The Institute opens CME–Paducah in Kentucky, the first training facility of its kind for America's inland river mariners.
1998: Ministry on the River begins, the only full-time pastoral care service available to mariners working on America's inland river systems.
2001: SCI dedicates CME–Houston, a facility for maritime training in the Port of Houston.
2001: SCI's NYC headquarters is transformed into an emergency relief station for 9/11 rescue workers, providing thousands of meals and distributing truckloads of donated supplies to aid Ground Zero workers.
2005: SCI raises and distributes over $155,000 for mariners affected by Hurricanes Katrina and Rita.
2009: SCI celebrates its 175-year anniversary with a series of programs, lectures, and the retrieval of SCI's extensive archives from the Episcopal Diocese of New York.
2009: SCI launches a groundbreaking study on the psychological effects of piracy on merchant mariners.
2009: SCI assumes administrative responsibilities for the Life Saving Benevolent Association of New York (LSBA), an organization founded in 1849 to "recognize and reward courage, skill, and seamanship in the rescue of human life on the sea or any navigable waters…"
2010: SCI opens the doors to its renovated Seafarers' Center in Port Newark. In addition to housing SCI's Center for Seafarer's Rights and Christmas at Sea programs, the new Center contains an Internet café, telephone carrels, recreation lounge, chapel, business services, and a Health and Wellness Center, all vital services for maritime transportation industry workers.
2011: SCI sells its headquarters building at 241 Water Street and transfers its archival collections to CUNY Queens College on permanent loan. The collections are housed at the College and open to researchers, in addition to serving as teaching resources for archives students in the Graduate School of Library and Information Studies.
2013: SCI hosts first Mountain Challenge fundraiser team race over 25 miles of rugged terrain in western Maine.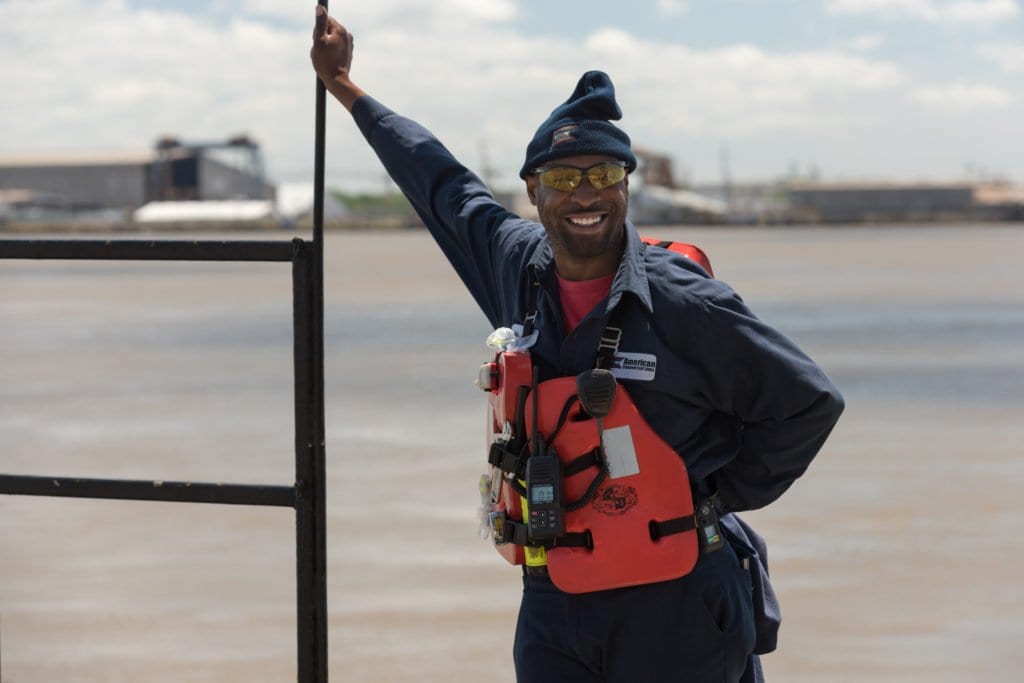 2014: SCI moves to current headquarters at 50 Broadway in New York City.
2015: In response to the tragic loss of the MV El Faro with all hands in October 2015, SCI established the El Faro Relief Fund to provide financial assistance to the surviving families and dependents of lost seafarers of the El Faro and other U.S. flag merchant vessels.
2016: CME broadens its service offering to mariners through a new online Health, Safety and Environment e-learning program.
2017: SCI conducts its first two-day Applied Suicide Intervention Skills Training (ASIST) workshop for shore-side personnel in the inland river industry at CME-Paducah.
2017: CME becomes the first maritime training center in the United States to receive ISO 9001 certification for its quality management system.
2018: SCI celebrates the 120th anniversary of the Christmas at Sea program by launching the 1898 Society, a planned giving initiative for volunteer knitters.
2019: The U.S. Coast Guard publishes final regulations on seafarers', chaplains', and other persons' access through marine terminals, culminating advocacy efforts by SCI that started in 2001 in the wake of the 9/11 terrorist attacks.
Explore more about SCI's history in our extensive online archive.