As a Christmas at Sea (CAS) volunteer, you are joining an inclusive, supportive community that represents the oldest and longest continuously-running charter knitting program in the U.S. CAS delivers the highest volume of knitted gifts to international seafarers of any non-profit, and we are the only chaplaincy delivering knit gifts to the thousands of professional U.S. mariners at work aboard towboats, harbor tugs, and dredges on the Mississippi River system and the Gulf Intracoastal Waterways. With our limited staff, we are only able to accomplish these impressive numbers because of the active support of our knitters, crocheters, seamstresses, packers, and donors.
"The hallmark of our program is personalization. We never purchase knits from the store. Every gift is hand-made, and for international seafarers, most arrive in a hand-sewn ditty bag. Knitted gifts to U.S. mariners on boats are delivered in boxes containing handcrafted Christmas cards often created by school children." — Joanne Bartosik, Christmas at Sea Manager
Impact of the Program
Captain Stephen Harris' Christmas at Sea story is representative of what we hear over and over from mariners and seafarers. Both of his children were young. At age two, his daughter was anticipating Christmas for the first time and was excited about opening presents. Captain Harris had already missed his son's eighth birthday party on December 15, and would still be working on the boat during his wife's birthday on December 29.
"Anybody who hasn't been home during the holidays knows what it is like when you have kids. I went to a really dark place. I started wondering if I was just selling my time. Was I carelessly relinquishing time with my family, something that is so sacred and precious to me? Facetime and talking on the phone weren't doing the job," says Capt. Harris. "However, as Captain, I am responsible for the morale on the boat. There was no one on the boat to confide in without jeopardizing morale.
The good part of working on the water when you are on for 28 days and then have 14 days home is that home becomes a vacation. Every homecoming is a party and a honeymoon rolled into one. But I wasn't thinking about that my first year as Captain. I just wanted to be with my family, and I felt so disconnected from them."
For the sake of his crew, Captain Harris adopted a festive appearance when the CAS packages arrived. He ceremoniously read the Christmas cards in the care package aloud to the group while donning a CAS hat and scarf with a candy cane in his mouth. By the third name in the cards, he was puzzled at the coincidence. By the fifth name, he realized it wasn't a coincidence. "My son's second-grade class had made those Christmas cards for mariners and put them in the box not knowing their destination. The experience of discovering that the cards were from my son and his class is something that will stay with me forever."
Years later, Captain Harris still remembers his hat from the box. It was a two-toned purple cap. "That beanie became part of my uniform on the boat. I wore it every day until spring arrived!"
Operating Through the Year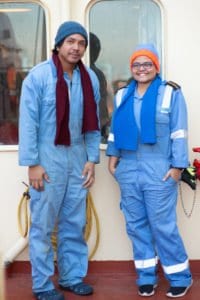 Although the gifts are delivered to ships and boats from the Tuesday before Thanksgiving through Epiphany in January, gathering and cataloging the knits occurs year-round. Collection for the new season begins the day after Epiphany. We try to mail the first shipment of gifts to our chaplains in the south and midwest sometime in late summer for safe storage until delivery at the holiday season.
For the seafarers, knits are packaged by volunteers on annual Port Packing Days at our welcome center in Port Newark. Volunteers pack ditty bags with personal toiletries, a 2-piece knit set, and individually-packaged candy or treats. Twelve ditty bags are then packed into a Santa Sack to be delivered to crews calling on Port Newark and Port Elizabeth during the holidays. Knits for U.S. mariners are mailed to SCI chaplains who along with SCI staff and volunteers will pack one box for each boat with a knit gift for each mariner, along with other goodies. Chaplains also deliver ditty bags to harbor tugboat crews based in New York.
No matter their country of origin or occupation on the boat or ship, every mariner has a response similar to AB deckhand and cook Byron Druin upon receiving his CAS ditty bag:
"The needlework on this hat and scarf is beautiful. The idea that someone would take the time to make these wonderful gifts for other people that they don't even know; it really means a lot. I can tell you that tugboaters are going to wear their knits to death. I'm glad that they are made of really strong yarn! I'm from Maine, so I'm no stranger to cold weather. I know how to dress to stay dry. But let me tell you: it gets stinging cold out there on the water at 03:00 in the morning! I will put these to good use."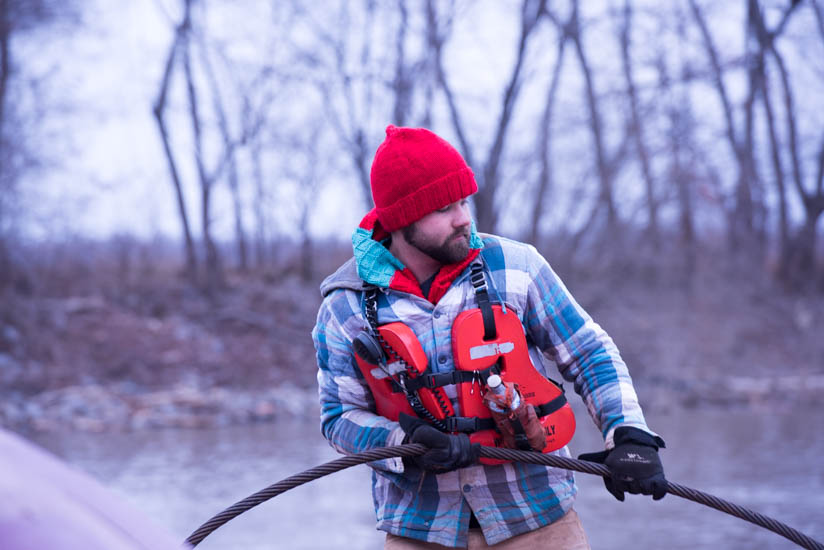 Mailing address for Christmas at Sea:
Christmas at Sea
International Seafarers' Center
The Seamen's Church Institute
118 Export Street
Port Newark, NJ 07114