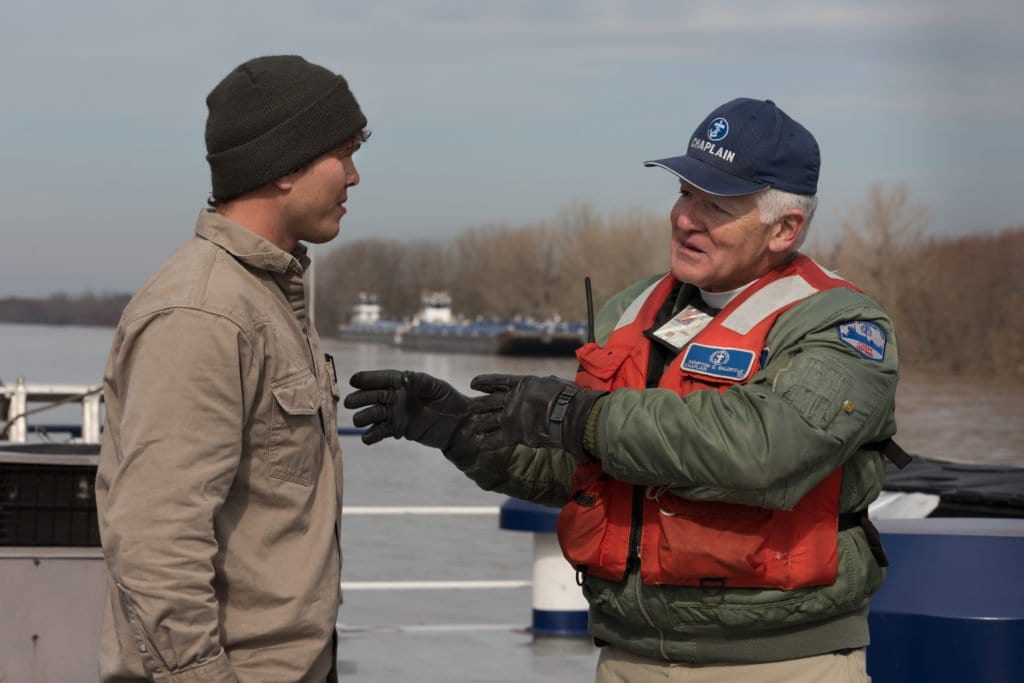 ---
---
For almost 200 years, the Seamen's Church Institute's (SCI) chaplains have served seafarers in America's blue water ports. Since the 1990s, Ministry on the River (MOR) has served America's towboat mariners on their best days and their most tragic days. MOR offers pastoral counseling, support, and fellowship to thousands of professional mariners at work aboard towboats, harbor tugs, and dredges on the Mississippi River system and the Gulf Intracoastal Waterways. MOR provides the only such network of pastoral care available on American inland waterways, and it operates 24/7/365.
Who Do Chaplains Serve?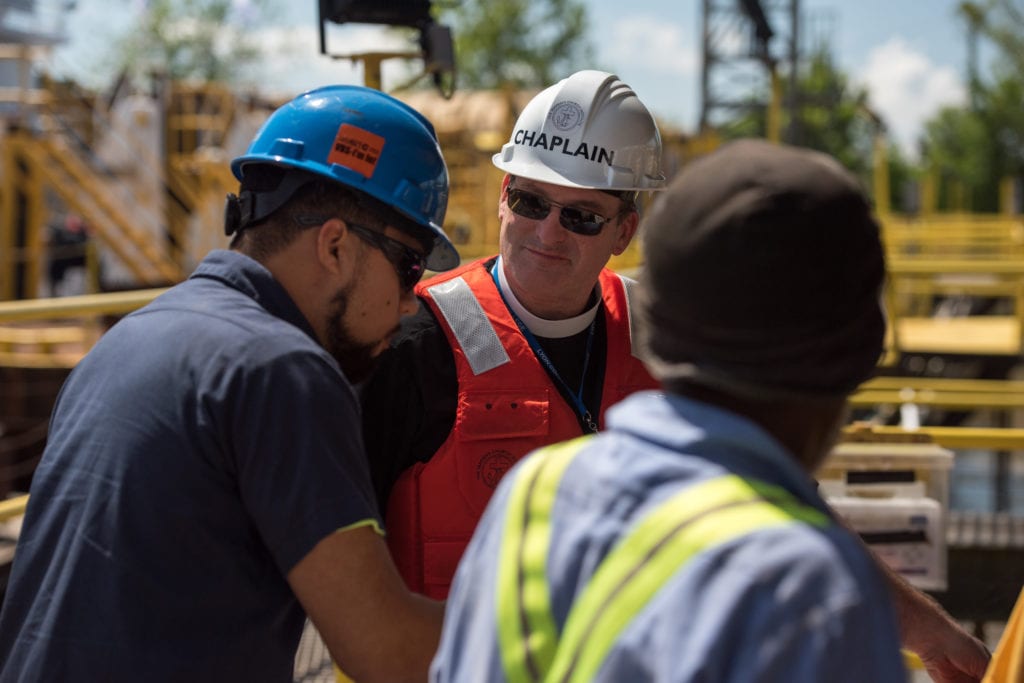 Maritime river chaplaincy is a ministry that connects faith communities with maritime communities. Maritime communities are shoreside staff and fleet mariners who live at home working twelve-hour shifts on a fleet boat. The largest community of river mariners live on their boats six to eight months of the year. Those who ride their boats half the year typically work 28 days on and 28 days off, while those who work two-thirds of the year work 28 days on and 14 days off. They typically work six hours on watch and six hours off watch. Most of the mariners on the river are male and live on their boats. Their schedule necessitates that the mariner have a limited physical presence in their families and faith communities.
The attraction to working on marine vessels is family history, the good pay, the adventure, the minimal education requirements, and the brotherhood. A high school education or GED is all that is required, but more and more mariners attend maritime academies or mariner specific private schools. Some of these academies are two-year community colleges that prepare students to become deckhands and tankermen. There are also seven Merchant Marine Academies that prepare students for piloting ships and boats. In the river towing industry, Texas A&M Maritime Academy prepares students for push boat piloting. Some major marine transportation companies do not require students with a degree to work as deckhands, but most advancement is through experience and meeting the U.S. Coast Guard requirements.
Check out an interactive map of the full range of our pastoral care team's reach here.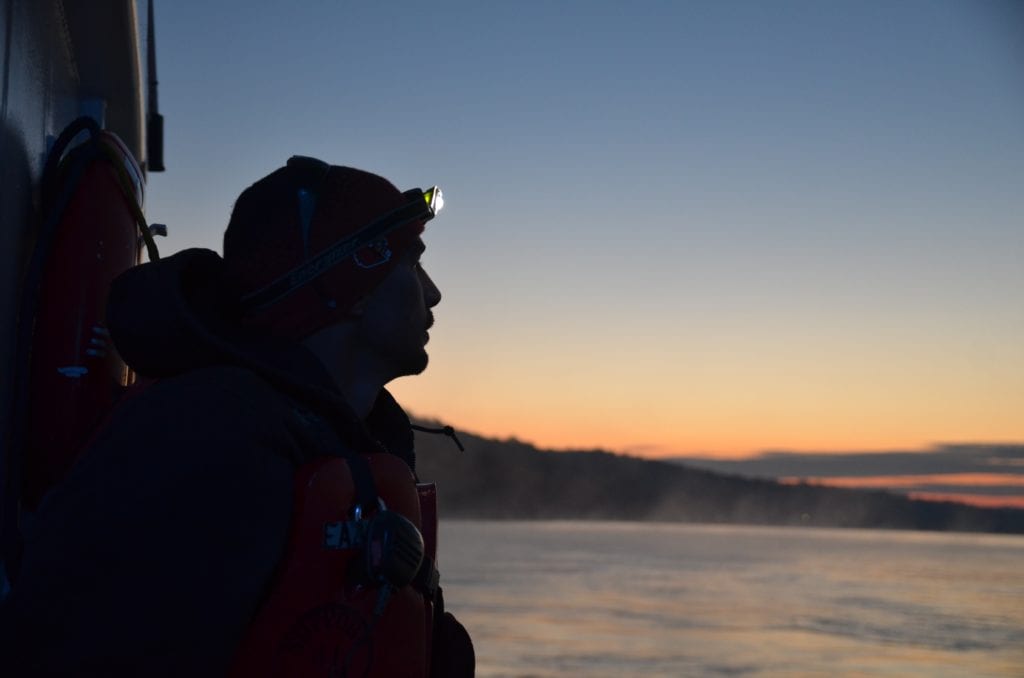 The Unique Challenges Facing the Mariner
Being a mariner is a way of life. Working and living are on a boat. Only a small portion of mariners can physically separate themselves from their workplace at the end of the day. Living on a boat isolates a mariner from their family and the larger community for extended periods. This absence from family and community life makes them vulnerable to loneliness and broken relationships. Mariners may experience guilt, their children may feel abandoned, and spouses may get lonely and angry from coping with raising children alone.
Working on the water with heavy equipment is dangerous. Transporting on the river has no holidays or weekends. Deckhands work in adverse weather conditions. Sleep deprivation is a way of life.
In addition, life on boats is regimented. Deckhands check and build barge tows, maintain the boat, and secure boats and their tows to docks. Engineers maintain and repair the mechanical and housing equipment on the towboat. Captains and pilots steer the boat and captains manage the vessel and its crew: tankermen transfer fuel, oils, and chemicals for both barges and the boat. Some companies employ towboat cooks. People who have military experience are preferred in the industry because they know how to take orders and live in confinement in groups. Therefore, ordained chaplains who have been in the military and have worked in the maritime industry have an advantage in building relationships with mariners.
Services Provided by SCI Chaplains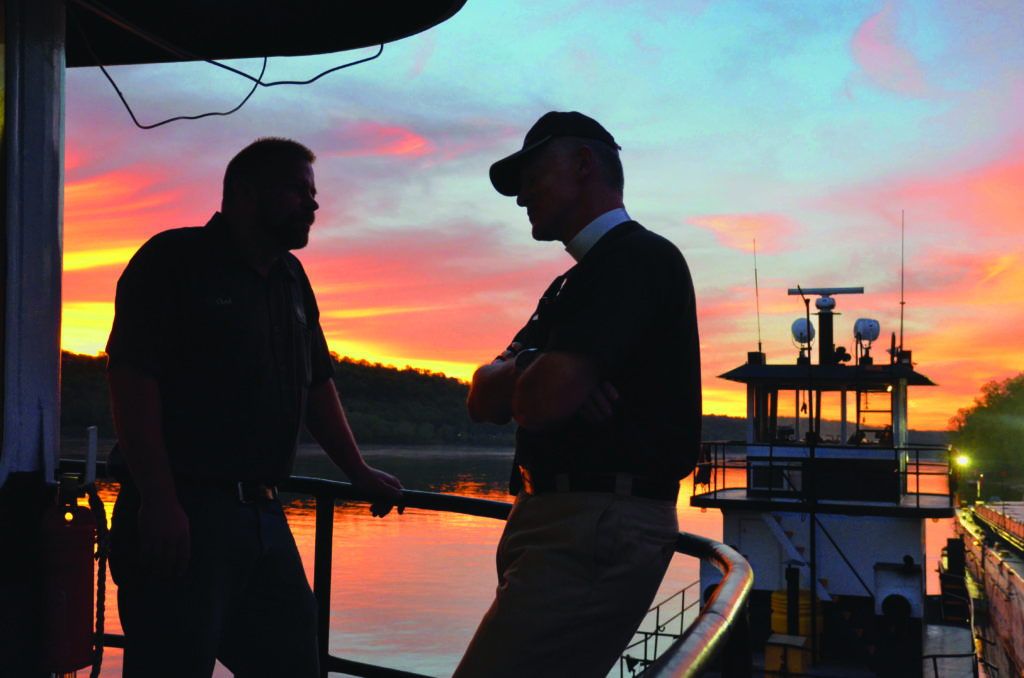 Helping mariners cope and recover after tragedy is the headline-grabbing element of SCI's pastoral care, the service that typically springs to mind at the mention of our Ministry on the River program. Chaplains are certified in Critical Incident Stress Management (CISM), and because they serve so many different marine transportation companies, they have extensive experience as a first responder. However, while dramatic and vital, crisis response represents only a small sliver of SCI chaplaincy's capabilities.
MOR places a full array of services and resources at the mariner's disposal.

We perform:
Pre-marital counseling
Wedding ceremonies
Funerals, and baptisms
Suicide intervention (Applied Suicide Intervention Skills Training – ASIST)
Career counseling
Parental education
Towboats, drydocks, and dredges christening
Connections for mariners to mentors and peers
Chaplains also manage much of the packing and delivery of the inland river and gulf portion of the Christmas at Sea program.
Perhaps most importantly, our ministers stand shoulder-to-shoulder with the mariners on a daily basis.