Reflections upon "Vriedelandt"
Retired Chaplain Kempton Baldridge represented SCI at SUNY Maritime College's 2022 Indoctrination Week. He wrote about his time there and his experience meeting the incoming cadets.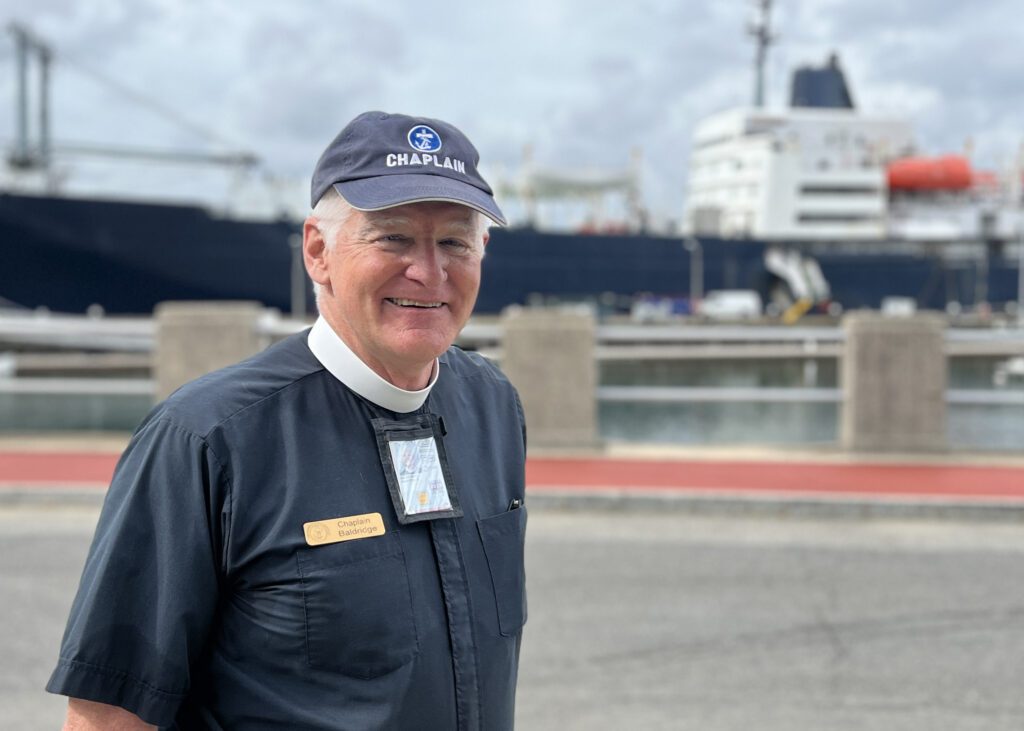 "Did you go to Fort Schuyler?"

I was asked that question often as SCI's chaplain at 'Fort Schuyler,' as SUNY Maritime College is often called. So frequently, in fact, I began to wonder myself.

"No, I didn't go to Fort Schuyler," I'd reply, adding, "but I get Fort Schuyler." And Fort Schuyler certainly got me.
asdfas
I spent ten incredible days living and working as "Vicar of the Village" on this historic and beautiful 55-acre campus at the spot where Long Island Sound meets the East River in Throggs Neck, NY. Fort Schuyler, in its various iterations since 1874, is regarded as one of the true cradles of the American merchant marine. 
 
Rear Admiral Michael A. Alfultis, Ph.D., USMS, SUNY Maritime's president, came to SCI seeking a chaplain-in-residence for its annual MUG (Mariners Under Guidance) Indoc Aug. 17 – 27. This was the first MUG Indoc with an SCI chaplain, but it seemed as if we'd been there all along. From the Admiral's full-throated 'welcome aboard' the day I arrived to view the graduation parade seated behind him ten days on, I was treated like family.
 
Six years as a chaplain at a state university proved less relevant than my four years as a Citadel cadet. I know how stressful, frightening and overwhelming it is as a "4th Classman." No matter what freshmen are called—Plebes, Knobs, Rats, Doolies, Youngies, or MUGs—Indoctrination, or "Indoc," at a maritime/military college is by turns dynamic and dramatic, variegated yet formulaic, demanding but ultimately gratifying and doubly so as a chaplaincy setting. 
 
To outsiders, all maritime or military colleges look pretty much the same. The uniforms, marching in formation, "squared corners," salutes rendered, etc. But beneath the pomp, shined brass, and spit shines lies the spirit and ethos of a cadet corps. They aren't all the same. Sometimes a "system" can turn cruel, mean, intolerant, or worse. 
 
At SUNY Maritime, IDOs (Indoctrination Officers) are 2nd class cadets (college juniors) working directly with MUGs in one of six sections. IDOs are selected by the commandant for their leadership, maturity, sound judgment, and good character. They serve as the MUG's drill instructors, tour guides, hall & lunchroom monitors, wardrobe matrons, marching coaches, safety escorts, personal mentors, and older sibling 'stand-ins.' No room for cruelty or meanness in all that.
 
Interacting with IDOs out on campus, not one of them spoke of "weeding out," "culling the herd," "weakest link," or "running off" any of 'their MUGs.' Quite the opposite. Caring, compassion, and empathy are the common traits of leadership here. Observing and working alongside Maritime's cadre at Indoc, I was immensely proud of them, what they stood for, and genuinely encouraged about the future world they themselves are helping to shape. 
 
What did I do? MBWA – Ministry By Wandering About. Wherever MUGs were or were going, I would follow along. There were exceptions: 
 
1 pm – 2 pm daily was "Anchor Chains," an hour of ethical, practical, or professional instruction for MUGs by section (35-40 cadets). After lunch each day, I'd be in the chapel, ready to lead discussions on 2 – 3 topics. One day two sections of MUGs (75 cadets) were waiting outside the chapel. The A/C was off, so it was already uncomfortable inside, worsened by cramming into a chapel with 51 seats. But we kept the discussions lively and relevant, ending with time to spare. I thanked them and then gathered my materials. The MUGs all stood and applauded, many coming forward to shake my hand as they left. That sort of thing doesn't happen to clergy very often.
 
Two-thirds of MUGs – 166 out of 235 – attended worship at the cadet chapel. Fr. Mark Vaillancourt, '81, and I decided to split the MUGs into three groups – one in the chapel, a second on the roof, and a third in the courtyard. And using internet resources and guided by a former SCI colleague, I tried to approximate Shabbas in the chapel on Friday and Saturday for an observant Orthodox Jewish MUG. Not what he was used to, but nothing is for MUGs. He appreciated the effort, if not the execution. And the dining hall chef was happy to procure kosher grape juice for Kaddish on the following Friday. 
 
On Day 5, while taking photos of drill practice at the football field, an IDO ran up seeking pastoral counseling for a MUG verging on a panic attack. On Thursday, an IDO stopped me in the dining hall to schedule counseling for a MUG. An hour later, the IDO walked the MUG to chapel. The MUG was doing well as a cadet, but the IDO sensed the chaplain could help the MUG deal with his parents' issues. (Both cadets made it through Indoc and are doing fine the last we heard). Each day brought similar pastoral encounters with good outcomes.
 
Toward the end of Indoc, I was sad to be leaving. I love being at Maritime and developed a deep resonance with the place—emotionally, culturally, philosophically, and spiritually. There's a peace there I have found in few other places. Small wonder the first Dutch settlers called Throggs Neck, Vriedelandt, literally "Land of Peace." That's the way I'll think of it from now on.