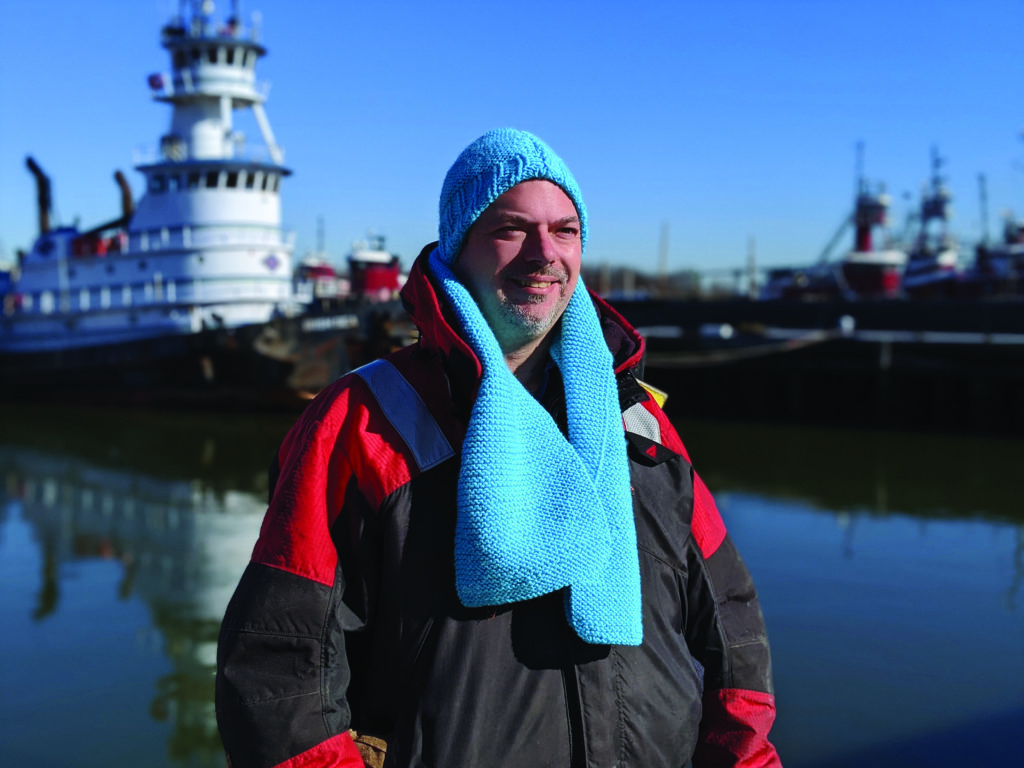 Christmas at Sea volunteer needleworkers are at the heart of what we do. We depend on their time, commitment, and talent to help us brighten the holidays for thousands of U.S. mariners and international seafarers.
The following are additional opportunities for Christmas at Sea knitters, crocheters, and ditty-bag makers to increase their involvement. We also offer meaningful ways for non-crafts people to support the effort. Our vibrant volunteer base allows SCI to run this major program successfully with limited staff and minimal expenses.
Toiletries, Christmas Cards & Treat Donations for Seafarers
Seafarers each receive a hand-sewn ditty bag housing two handmade knit gifts and a signed Christmas card, along with an assortment of donated toiletries, fun games, and individually packaged snacks or candy. If the needleworker includes a note with their knit gift, that would also be packed with the knits.
These items go fast when we are packing. Travel or sample size donations of new products are greatly appreciated!
Unscented, colorless lip balm
Deodorant
Toothbrushes and travel-sized tubes of toothpaste
Unscented hand lotion (2-4 oz bottles)
Shampoo
Conditioner
Body wash
Individually packaged non-perishable candy and snacks like granola bars
Books or activities like Sudoku, word searches, or playing cards
Facial tissue
Microwave popcorn
Pouches of hot chocolate mix
Chewing gum
Christmas cards
Donations may be mailed to:
Christmas at Sea
The Seamen's Church Institute
118 Export Street
Port Newark, NJ 07114
All items must be in new and unused condition in their original packaging. We cannot accept items that are used or unsealed.
For ease of use, CAS also has a wish list with Amazon (REMEMBER: Please add a gift note so we can acknowledge your gift).
You can make your purchase even more impactful, by using AmazonSmile and designating the Seamen's Church of NY and NJ as your nonprofit charity of choice. A portion of the purchase will be designated to SCI.
CAS Angels
Experienced knitters and crocheters are needed to mentor novice CAS needleworkers or to help with particular questions on CAS patterns. Sometimes new knitters just need encouragement to finish a project and enjoy their work. All interaction between the mentor and mentee occur online or over the phone. If you would like to volunteer your time as an Angel, please contact us at [email protected]. More information about the program may be found here.
Port Packing Day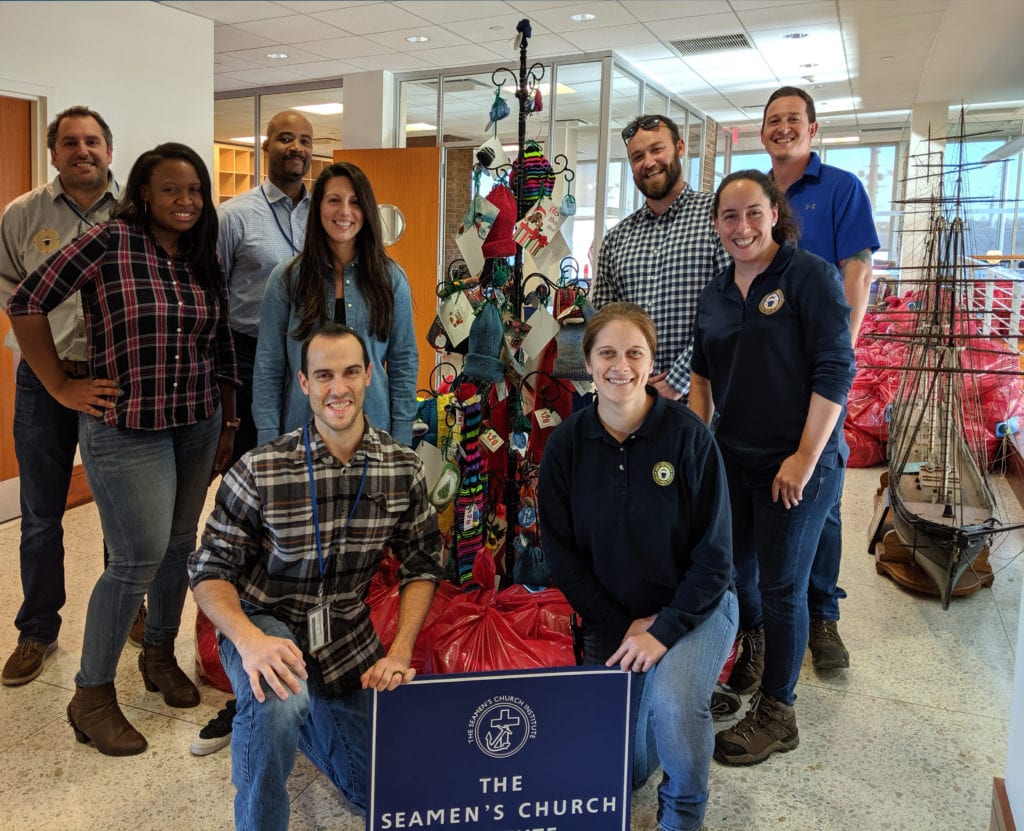 Please join us for a fun event in our Port Newark location as we pack handmade knits for CAS! Last year, we distributed 8,108 knitted gifts to seafarers calling on the Port of NY and NJ. With Christmas music playing and beverages and treats on hand, many people in the area have made this give-back event one of their annual holiday traditions.
Volunteers form an assembly line around an enormous work table in our lovely Christmas at Sea headquarters. Each ditty bag is filled with two knitted gifts and an assortment of items from bins containing travel-sized toiletries, treats, and personalized Christmas cards. Twelve completed ditty bags are placed in one large red Santa sack to be delivered to ships calling on the Port of NY and NJ by SCI chaplains. Individuals and groups have their photo taken by the famous SCI Christmas tree as a remembrance of their day of volunteering.
To see photos of last year's Port Packing Day along with other event photos, check out the Events Gallery.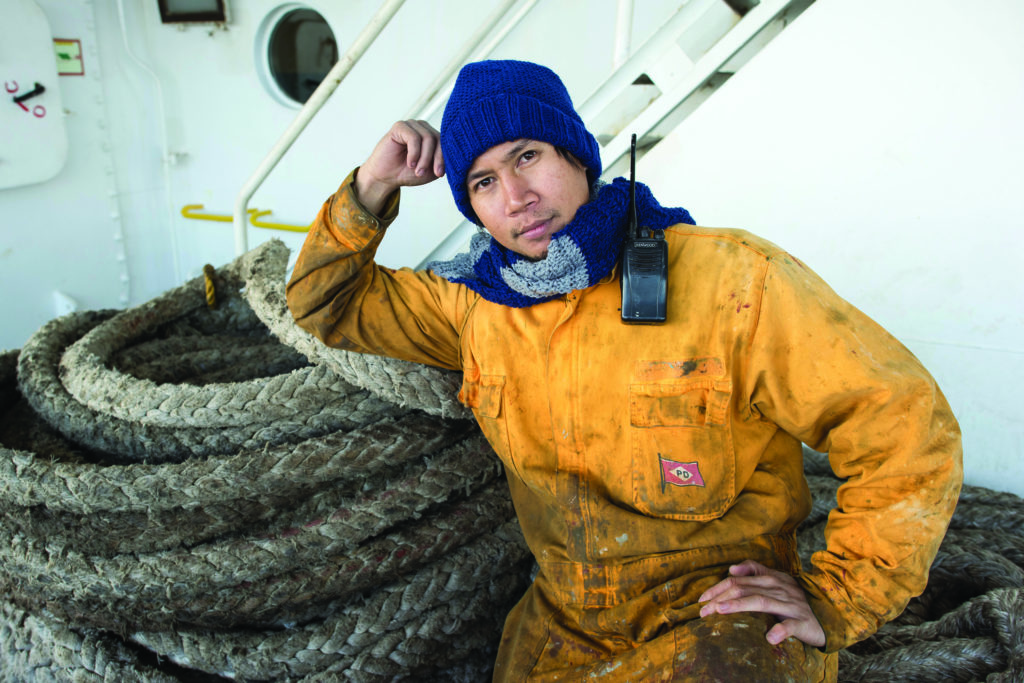 Facebook Community
CAS has a dedicated Facebook page here. Join our warm online community to hear the latest happenings and view images of knits from fellow CAS volunteers.
Ravelry Community
CAS also has an active group on Ravelry, a website for knitters and crocheters made up of millions of yarn lovers from all over the world. Once you create a log-in, you can search under "Groups" for Christmas at Sea.
---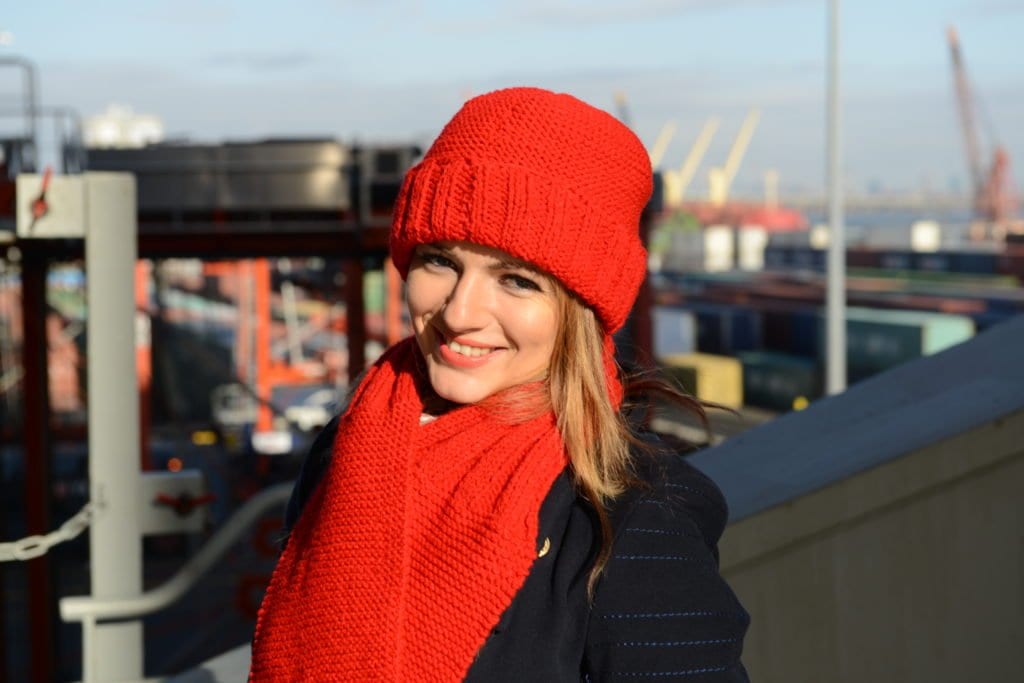 Donation
Click here to make a donation online. For information about other donor opportunities, please visit Ways to Give.