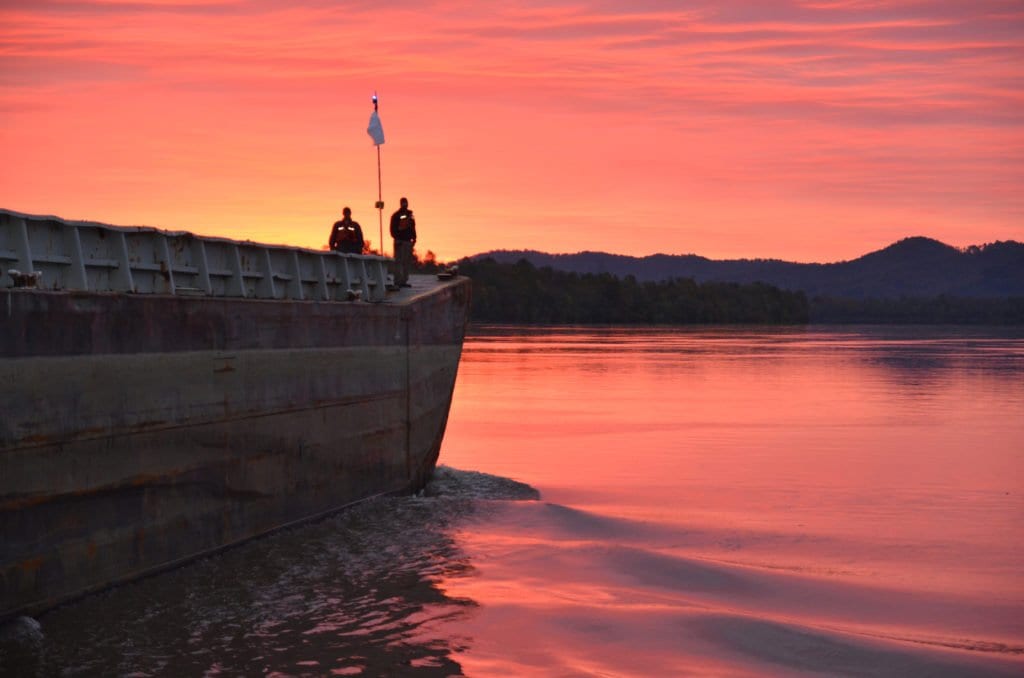 Supporting Mariners Far and Near
Mariners are the backbone of global commerce, transporting billions of tons of cargo each year across the world's oceans and along our nation's inland waterways. Their labors greatly impact the world's economy. It's a truism that 90% of everything we use in our daily lives is transported by ship at some point in the global supply chain.
Assisting the work of The Seamen's Church Institute (SCI) gives support to the people who deliver the goods that make our modern way of life possible. SCI provides many ways in which to get involved. On this page, read about making a financial contribution, volunteering, collecting gifts for mariners, becoming a sponsor, and planned giving.
Donate by Making a Financial Contribution
SCI strives to be a good steward of all of its resources: volunteers, staff, and financial contributions. Investing its assets in the future of the maritime community, SCI uses the dollars you give wisely and to the fullest extent.
Some people support SCI because of the professional services we provide to the maritime industry. Others support the Institute as a way of participating in the mission of the church. SCI enables affiliations across a wide spectrum. All of them work together to make a better tomorrow for the hardworking mariners of the world.
Simply click the DONATE button to make a financial contribution today. You can also call us at 212.349.9090 to make a contribution over the phone with your credit card.
Matching Gifts
You can double the support your contribution provides to mariners if your company offers gift matching. A significant portion of the money corporations give away to good causes each year comes through gift-matching programs. With as many as one out of every ten gifts eligible for a match, you many wonder if your donation to SCI meets the criteria for inclusion.
If you work for a corporation that matches charitable gifts, you can increase the help you give mariners without adding a penny to your personal contribution. Many corporations match donor gifts dollar-for-dollar. Some go even further.
Start by finding out if your employer has a matching gift program in place. If so, your company can tell you (usually via the Human Resources department) the steps to take to get your gifts matched. Those steps may involve completing forms and submitting information about the recipient organization.
When making your gift to SCI, indicate that your company intends to match it by checking the box on the SCI donation form in print or online. SCI can coordinate with your employer and answer further questions they might have. Letting us know also ensures SCI counts the matching portion of your gift as part of your giving total in our Annual Report.
Companies not familiar with the Institute may need clarification of some crucial facts about the nature of SCI's work and the ways in which SCI uses donations. Oftentimes, matching gift schemes exclude religious organizations; however, a corporation may consider matching a gift if given further information about a nonprofit. With them, you might find it helpful to share the following:
SCI is a self-governing 501c(3) not-for-profit organization. Although affiliated with the Episcopal Church, SCI is not an integrated auxiliary of the church nor does it operate a church of its own.
Many of the major programs SCI offers consist of professional development opportunities and advocacy for mariners, and SCI offers all of its programs to mariners regardless of a person's creed, background, religion or ethnicity.
A copy of SCI's Annual Report detailing financials is available here.
Recurring Gifts
Dividing a gift into installments — through automatic payments on your credit card — provides a steady stream of vital income to the organization that supports mariners. Regular cash flow allows SCI to accurately plan and efficiently manage resources over the course of a fiscal year. Monthly or weekly contributions of seemingly small amounts add up.
SCI offers automatic payment options for an efficient and manageable donation spread over the course of a year. 
Gifts of Appreciated Securities
One of the most cost-effective ways to support the Seamen's Church Institute is with shares of stock that have increased in value since their purchase or acquisition. Generally, you may be entitled to claim a charitable tax deduction for the current market value of the stock, and may pay no capital gains tax on any appreciation.
Volunteer
With a network of volunteers nationwide, SCI makes sure that no matter where their rigorous work takes them, mariners have someone on whom they can depend. SCI offers many ways volunteers can contribute to the work of the Institute.
Collecting and organizing the collection of items for mariners
Service projects for children
Volunteer ship/boat visiting, welcoming port workers, and offering hospitality at SCI's seafarers' centers
Becoming a Mariner Friendly Church
Volunteering at SCI not only serves the needs of mariners but can also be a rewarding association with people from other states and countries. SCI empowers many different people to work together on various projects. Equally, SCI connects individuals one-on-one with mariners visiting their community, sharing stories of travel, family, and other cultures.
To learn more about volunteer opportunities at The Seamen's Church Institute, speak with a chaplain or email our volunteer coordinator. To see SCI's ministry firsthand, arrange a visit to one of our seafarers' centers by emailing a chaplain.
Collect
Perhaps it seems ironic that mariners who work to deliver goods from around the world to our homes and workplaces can find it difficult to obtain the same items of modern convenience. With long stretches on the water and long distances from home, mariners miss the opportunities that land-dwellers often take for granted.
In consultation with chaplains and mariners, SCI has compiled a list of items that can be found at most ordinary supermarkets but which make an extraordinary impact on the lives of others. It includes items like hand lotion, lip balm, books, playing cards, and word games in new, unused condition. Click here to see the complete list of items.
SCI provides excellent volunteer service projects that are easy to coordinate, and we can get you, your church, or group outfitted with the materials needed to get people motivated and collecting.
If you, your organization, or your company can help, email [email protected].
Sponsorships for Individuals and Corporations
SCI partners with supporters through annual, event, and program sponsorships. These financial contributions shore up SCI's historic and vital mission to mariners.
Sustaining Sponsors provide unrestricted financial support of $100,000 or more annually. Supporting Sponsors provide unrestricted financial support of at least $50,000 per year. Contributing In-Kind Sponsors provide SCI with goods or professional services in excess of $25,000 annually. See a list of our current corporate sponsors.
In addition to these opportunities, SCI gives corporations, churches, and organizations a way to make a major impact by sponsoring a specific portion of ministry or an SCI special event. Underwriting opportunities strongly connect companies and groups with the work of the Institute. SCI provides prominent recognition to its underwriters.
For information about these and other sponsorships, email SCI's Director of Development or call 212.349.9090.