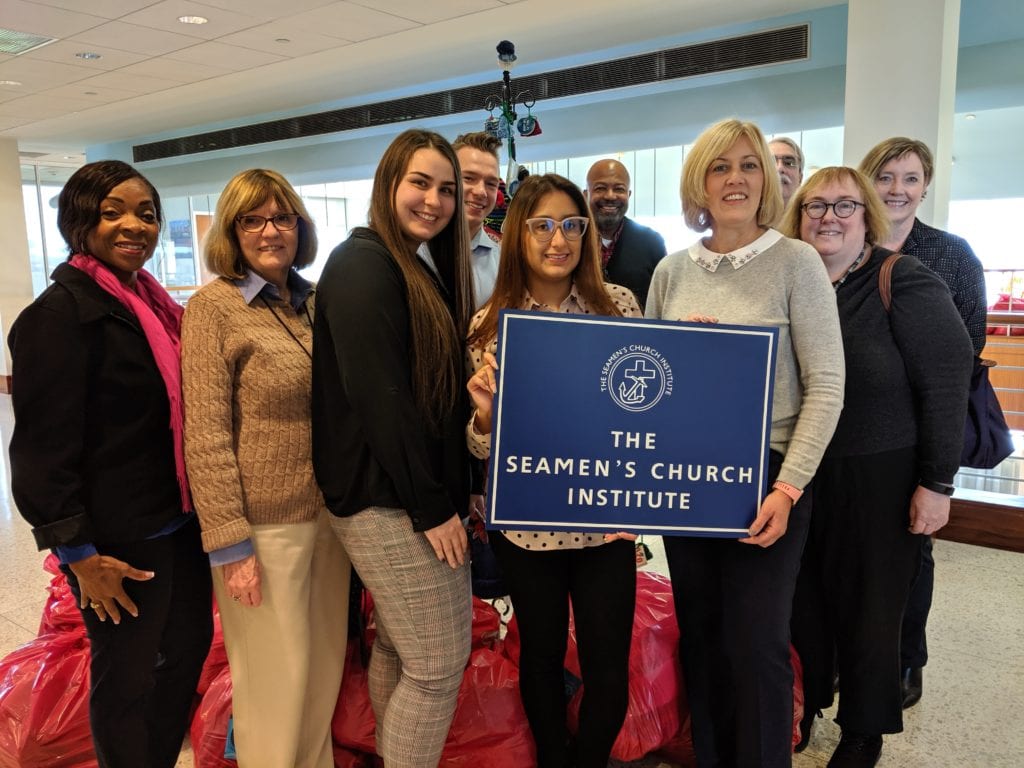 Location: Port Newark and America's Heartland
Port Packing Week in Port Newark
Fri., Nov. 13 – Thurs., Nov. 19, 2020
Please join us for a weeklong event as we pack handmade knits for Christmas at Sea (CAS). Last year, we distributed 8,108 knitted gifts to seafarers calling on the Port of NY and NJ. As in years past, we ask that you collect and bring travel-size toiletries, candy, and other nonperishable snacks to include in the drawstring ditty bags. We provide the knits! Beverages and treats will be on hand for volunteers.
We're scheduling "CAS Teams" with a maximum of 8 members between 10 am and 4 pm in one-hour time slots throughout the week. This popular event tends to fill up quickly. You will want to reserve your spot as soon as possible.
CAS Teams' safety is of paramount concern. In accordance with the Centers for Disease Control, SCI has implemented the following protocols:
All visitors are required to wear a face mask covering the mouth and nose.
Upon entering, you will be asked if you've left the state.
We are doing temperature checks and requiring visitors to sign in.
There is a limit of 3 people in the elevator at a time.
We are exercising physical distancing. Packing groups will be limited to 8 individuals. A family pod is considered one individual.
We will schedule a 1-hour window between groups to allow for a thorough wipe down of the CAS workroom.
Gloves (which CAS will provide) are necessary for sorting through bins and handling knits.
We will have hand sanitizer stations set up.
There will be a designated "snack" area located outside the CAS workroom. We will offer single-serving beverages and snacks throughout the day.
We are happy to take individual photographs around the CAS tree; however, just for this year, we're going to forego the traditional group shots, with the one exception of family pods.
As the pandemic is a fluid situation, these protocols are subject to change.
We have an Amazon Christmas At Sea wishlist for items we'd like to include in the gift packages. You can order and ship the items to us in advance. (Please reference where they are coming from.) You can make your purchase even more impactful by using AmazonSmile and designating the Seamen's Church of NY and NJ as your nonprofit charity of choice. A portion of the purchase will be designated to SCI.
If you have any questions, need additional information, or are ready to make your reservation, please call 973.589.5828 or email JBartosik@seamenschurch.org. Looking forward to seeing you in November. Thank you!
Additional Packing Opportunities
For the third consecutive year, the Seamen's Church Institute (SCI) is delighted to partner with San Jacinto College in La Porte, TX for an extravaganza of a Christmas on the River event scheduled for November 5, 2020. Students enrolled in the Maritime Training and Technology Center volunteer to pack approximately 2,000 knits for mariners working during the holidays.
These specially designed knit and crocheted hats, scarves, cowls, vests, socks, and slippers are donated by over 1,000 talented volunteer crafters and another 162 groups residing in the U.S. and beyond. Included with these garments are homemade Christmas cards, made by local school children and Sunday school classes.
Last year, 50 San Jac students accomplished all the packing in record time. They finished before the celebratory pizza arrived.
Christmas on the River began in 1997 as the result of SCI's Christmas at Sea expansion to include mariners working the U.S. inland waterways and the Gulf. Over the last several years Christmas on the River has grown exponentially.
Check back here for dates and times in Paducah, Houston, Baton Rouge, and other locations to pack gift boxes for U.S. mariners on boats during the holidays.