Silver Bell Awards Dinner

Registration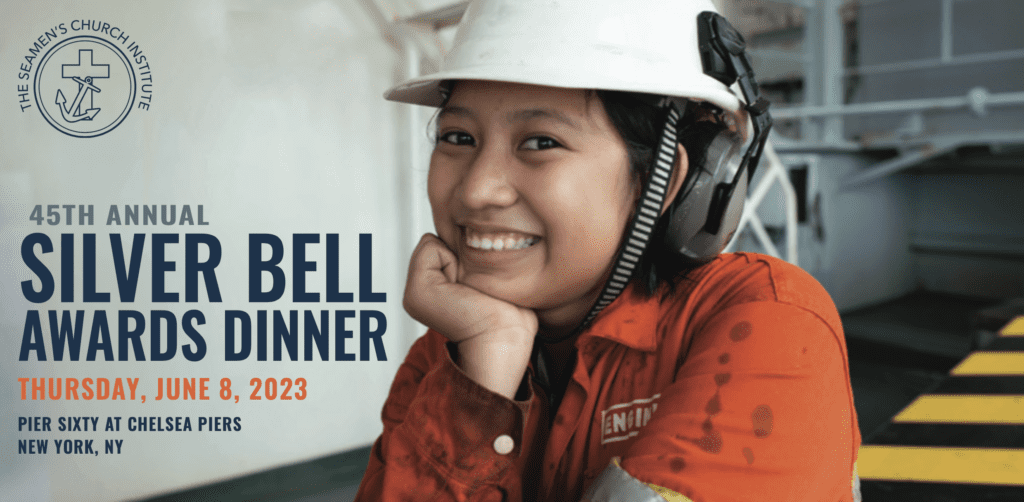 ---
45th ANNUAL SILVER BELL AWARDS DINNER
Thursday, June 8, 2023
6:00 p.m.: Cocktails
7:30 p.m.: Dinner & Awards
Pier Sixty, Chelsea Piers
New York, NY 10011
---
Honoring
Robert P. Burke
CEO and Principal, Ridgebury Tankers
Silver Bell Award
The Rt. Rev. Andrew ML Dietsche
XVI Bishop of New York
Lifetime Achievement Award
---
The Seamen's Church Institute (SCI) is excited to gather our friends, supporters, and colleagues from across the maritime industry at the 45th Annual Silver Bell Awards Dinner. At this event, we will also mark the 125th Anniversary of SCI's Christmas at Sea program.
Our purpose and practice—to serve the mariner—is made possible through the support of our generous Silver Bell Awards Dinner Sponsors, and we remain extremely grateful to our donors for their past, present, and future contributions. Your gift will directly support SCI's work advocating for the personal, professional, and spiritual well-being of merchant mariners around the world
For more information, contact [email protected] or call (212) 401-4072.
The 44th Annual Silver Bell Awards Dinner took place on June 9, 2022, honoring America's Maritime Academies with the Silver Bell Award, and Edmond J. Moran, Jr. (Director, Moran Towing Corporation) with the Lifetime Achievement Award. For further details on the 2022 awardees, click here.
A complete collection of photos of the 2022 event may be found here.
Registration