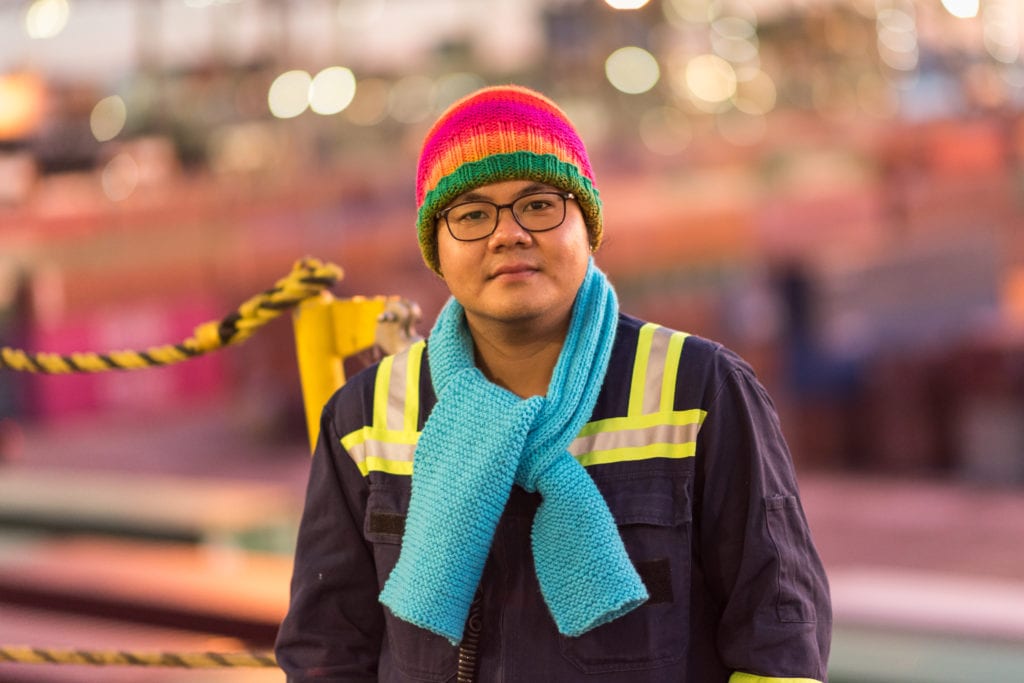 Since 1898, volunteers of the Seamen's Church Institute have knitted, collected, packed, and distributed gifts to mariners who were miles away from home during the holidays. Today, for seafarers calling on the Port Newark and Elizabeth in New Jersey, the gift consists of two hand-knitted garments, a Christmas card, and information on SCI's services for mariners along with toiletries like hand lotion, lip balm, and toothbrushes, and individually-packaged candy or snacks. The items for the seafarers' gifts are housed in an individual hand-sewn ditty bag, and they are delivered to the ships by SCI chaplains from the Monday before Thanksgiving through Epiphany on January 6. Mariners working on U.S. inland rivers receive a box for each boat containing handmade Christmas cards and a knit for each mariner. Click here for more information about the Christmas at Sea program.
Yarn and Colors
Feel free to work with the fiber that makes you happy and you have available. You may use wool, washable wool, wool blends, or acrylics- again knit with your preference! All are acceptable, with the exception of fun fur. If you are knitting with wool or something special like cashmere, we suggest that you attach a tag or note so that the recipient knows not to put it in the dryer. All SCI patterns provide a recommended yarn weight and gauge.
When choosing colors, remember that the majority of mariners are male, and their work environments can get dirty. We find that seafarers and mariners love bright colors as well as earth tones or a more traditional color palette. Contrary to popular belief, bright colors do not pose a security threat. In fact, required safety gear is usually fluorescent! Work in a colorway that you find pleasing, and we will deliver your gift to a mariner who treasures it. Our only color recommendation is to avoid pastels, as light delicate colors tend to show too much dirt and grime. Stripes or the use of ombre, variegated, tweed, or flecked yarns is another way to make your knit pop.
Please note: we cannot accept hats and scarves with pom-poms, tassels, or fringe as these embellishments present a safety hazard in maritime workplaces.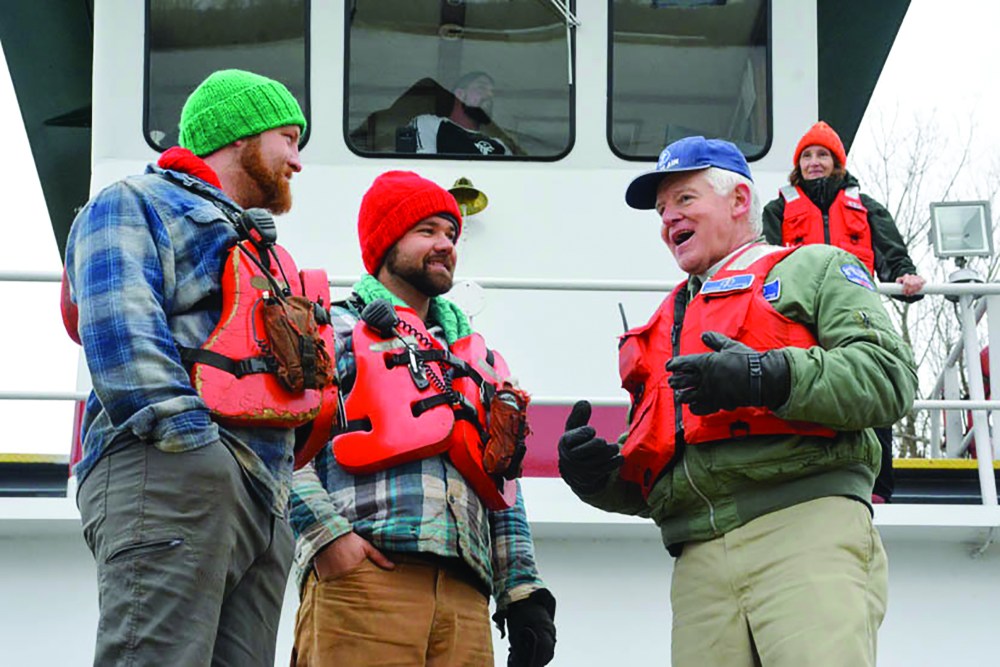 Delivery
Your completed handmade gifts may be sent to:
Christmas at Sea
The Seamen's Church Institute
118 Export Street
Port Newark, NJ 07114
Include your name, address, and email or phone number so that we can acknowledge your gift. If you are sending on behalf of a knitting group, please include the group's name and contact address as well. Donations are accepted year-round.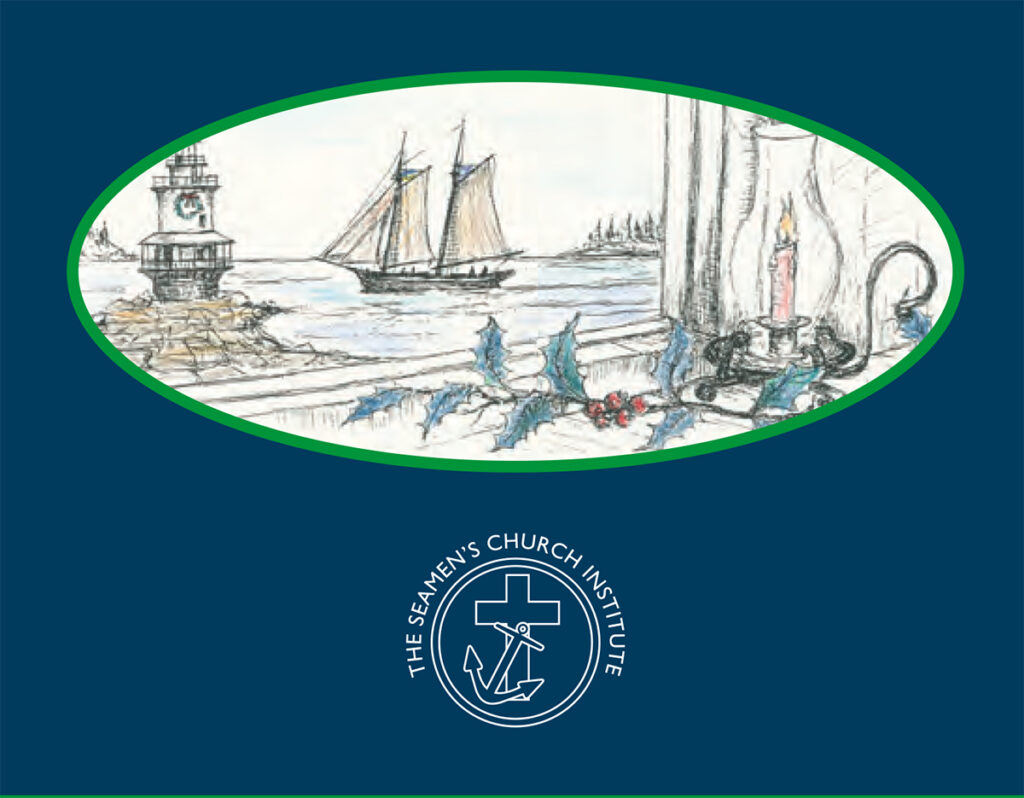 Please affix gift tags to your donations that include your first name and last initial. We encourage you to identify your city and state or write a short message, if you like. We understand from the mariners that this additional information exponentially increases the impact of the gift. Mariners who keep their hats or scarves for years can often recall the first name of the person who created it for them and/or their city and state.
Contact us at [email protected] for a set of SCI gift tags or, for your convenience, download the pdf file here to print on your home printer on cover paper. The gift tag sheets are designed to fit nine on an 8.5×11 sheet of paper.
Thank you to a talented volunteer couple from Maine who knit for Christmas at Sea and drew the illustrations for the traditional gift cards.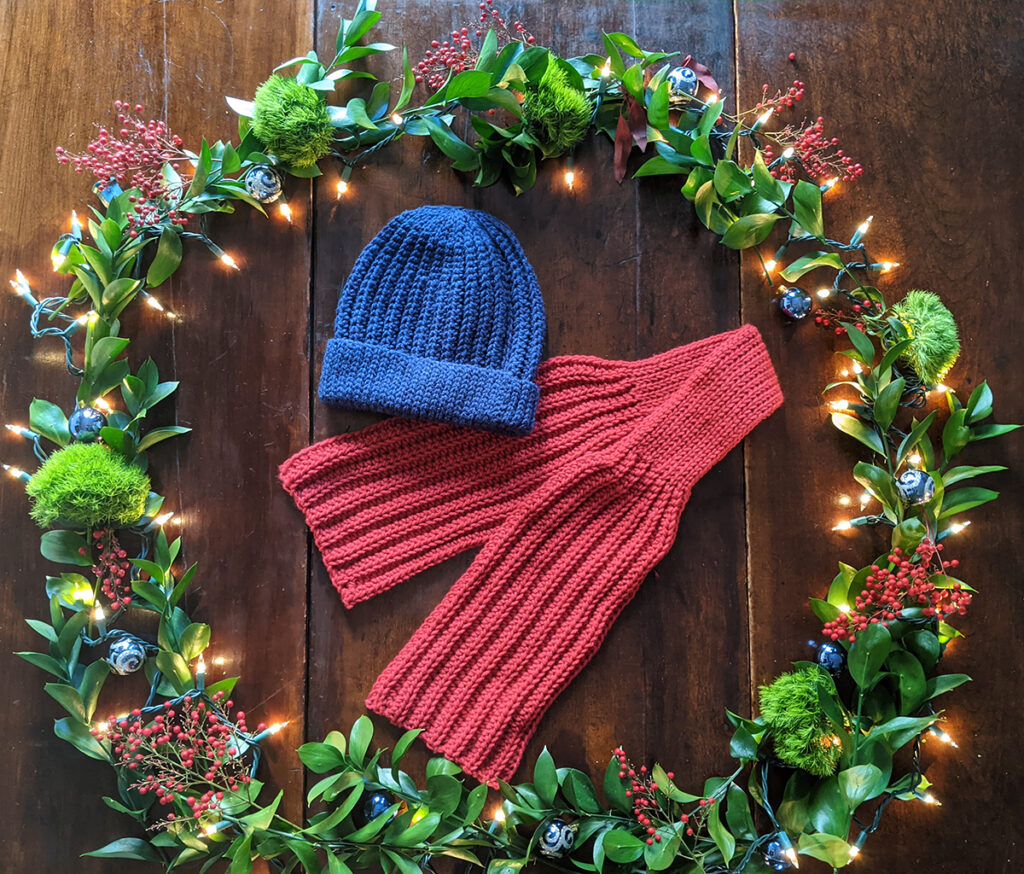 Handbook
This manual is an introduction to the Christmas at Sea program along with some popular knit, crochet and sewing patterns. The patterns are identified appropriately for any skill set.
Patterns
SCI branded patterns meet the needs of mariners working on the water in extreme conditions, harmonize with their work environment (and unique work attire), and conform to safety standards for clothing worn on board. Christmas at Sea knit and crochet patterns for mariners' garments and the sewing pattern for ditty bags are available as free downloads here: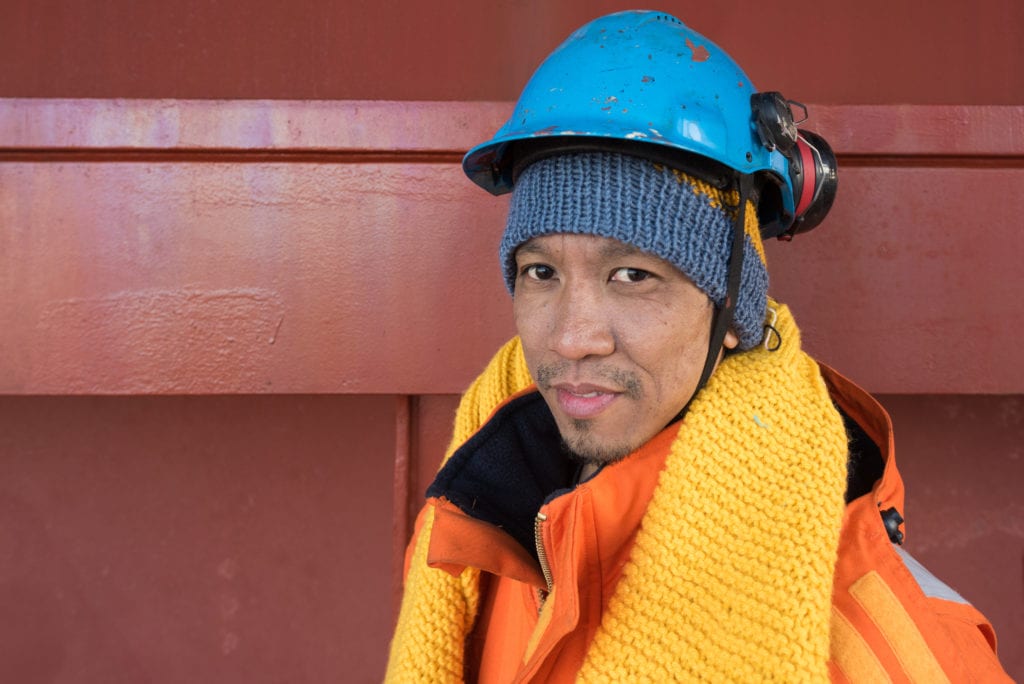 Resources for CAS Needleworkers
For the novice knitter or anyone who has a question about one of our patterns, we offer mentoring support staffed by volunteer Angels who can help you. To request an angel, please contact us at [email protected], and we will pair you with a mentor. Please visit our Angels program page for more information.
Jimmy Beans Wool – If you knit a Christmas at Sea (CAS) pattern with yarn purchased from Jimmy Beans Wool (JBW) and donate the knitted item to CAS, JBW will reimburse you with account credit for 20% of the costs! Simply take a photo of your garment and your JBW receipt and contact their customer service team. They will handle the paperwork!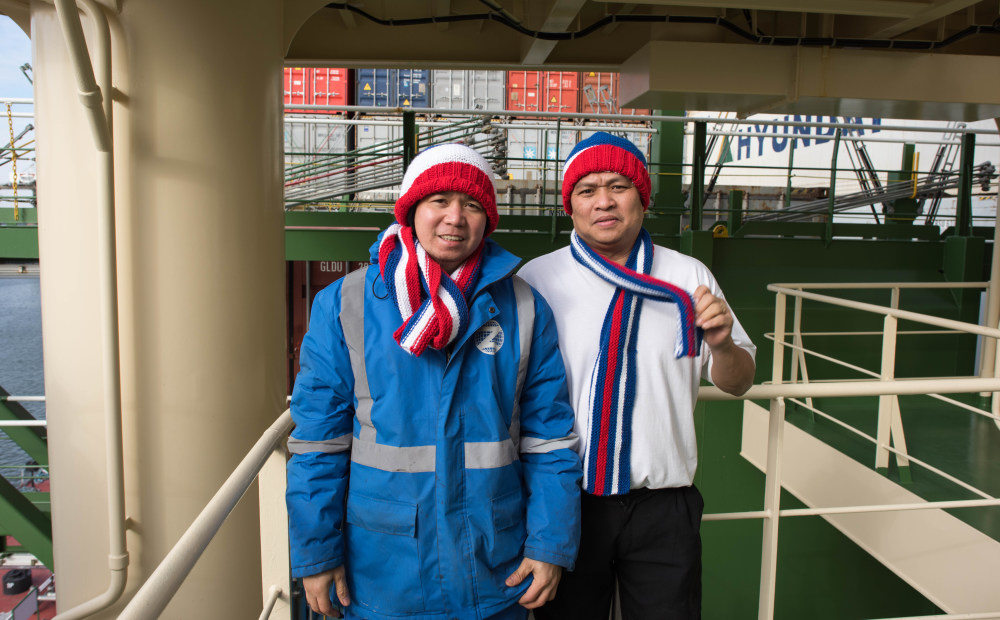 Subscribe to CAS Publications and Other Communications
CAS produces a biannual print magazine, The Knit Before Christmas, and emails bulletins with news items of interest to the CAS community. In addition, the SCI Communications department creates a printed magazine, The Lookout, monthly eNewsletters and other email bulletins for the full SCI community. If you would like to receive any or all of these complimentary communications, please contact us at [email protected] or subscribe here. Past issues of The Knit Before Christmas are available for viewing and download here.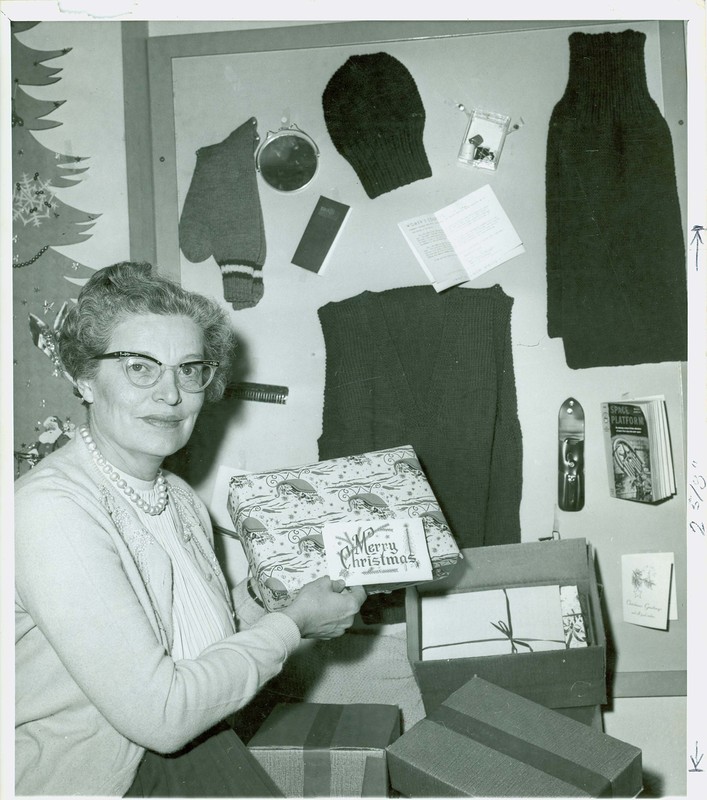 As a CAS needleworker, you are a member of a long tradition of Seamen's Church knitters, crocheters, and seamstresses. SCI's Christmas at Sea program, originally called the Seamen's Benefit Society and the Women's Council, was founded in 1898 by Augusta de Peyster to supply mariners with knit items and ditty bags while they were off at sea during the Spanish-American War. To find out more about the history of Christmas at Sea and other SCI programs, check out our digital archives.