Captain Stephen Polk, MNI
Director, Maritime Education & Training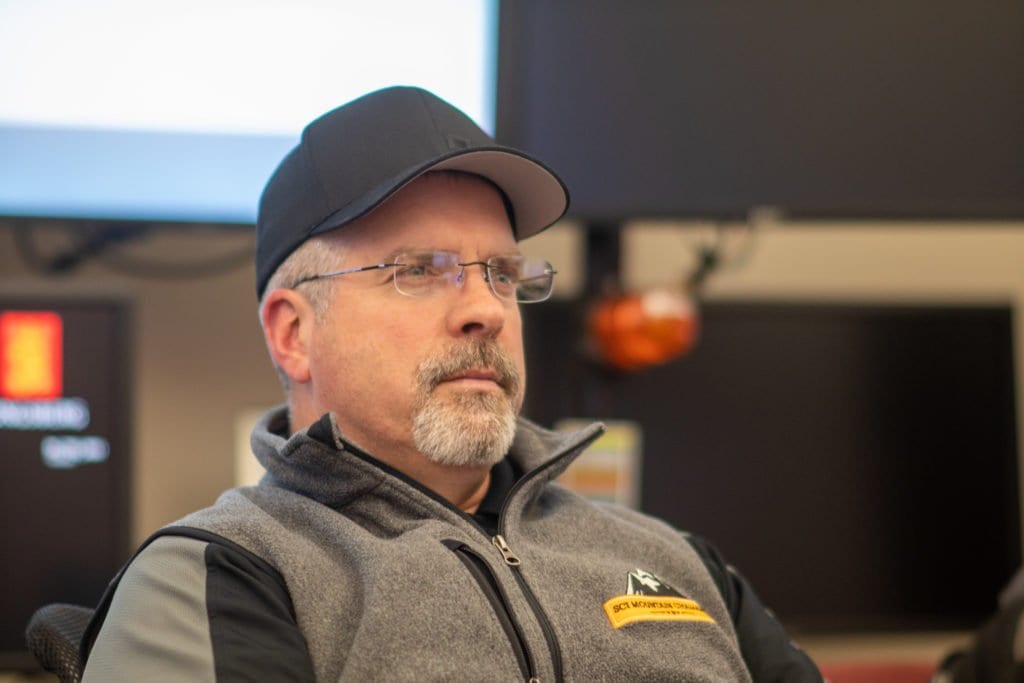 Captain Stephen Polk supervises SCI's Center for Maritime Education. Before joining SCI, he was a Senior Port Captain for Kirby Inland Marine, LP, and managed several types of inland towing vessels in the Canal Division. Captain Polk is a certified Crew Endurance Management System (CEMS) expert and holds a United States Coast Guard 3rd Mate Unlimited Tonnage, Oceans License. He also recently earned his Master of Towing Vessel and 300-ton Master-Oceans endorsement on his license.
A veteran of Operation Iraqi Freedom, Captain Polk served in the US Navy with two patrol boat units. As a Lieutenant Commander (LCDR), he has worked in various leadership and supervisory roles such as Tactical Communications Officer, Training Department Head, and Operations Department Head for both of the patrol boat units he was assigned to. Captain Polk has also logged over 10,000 hours of tactical and underway command experience while protecting ports and performing escorts of MSC and Navy warships in and out of various harbors worldwide.
Captain Polk started in the maritime industry as an Able-Seaman (A.B.) for Polar Tankers and as a Third Mate and working in the TAPS trade moving crude oil from Valdez, AK, to various ports along the west coast of the United States. He graduated from Texas A&M University at Galveston in 1997 with a B.S. in Marine Transportation.
Jonathan Burson
e-learning Business Relations Manager, CME-Houston
Jonathan Burson is a passionate, talent development professional with 12 years of experience in the maritime industry. A systems thinker who is proficient in creating management systems for training functions, implementing learning management systems (LMS), creating performance improvement training programs, evaluating learning impact, and implementing competency assurance programs. He began his career at Kirby Inland Marine, implementing a learning management system and developing training processes and programs that served over 3,000 users. He comes to SCI from Marine Well Containment Company, where he led the creation of operations training. This included the development of two training simulators used to deliver and assure the continuous readiness of process operators and vessel bridge teams. Jonathan has a BS in Management Information Systems.
Kelly Howard Butts
Registrar and Marketing Assistant, CME-Paducah
Originally from Columbus, GA, Kelly has been with SCI's CME-Paducah since November 1997. Prior to that, she worked at AFLAC worldwide headquarters in the Conventions and Meetings Department. Kelly graduated from Rhodes College in Memphis, TN with a major in political science and a minor in history.
Captain Thomas Chivers
Senior Instructor, CME-Houston
Captain Thomas Chivers worked in the inland river industry for over 30 years. Starting as a deckhand and working his way up to Captain, he spent over 25 years in the wheelhouse. Thomas has worked on the vast majority of the inland waterways and Western rivers and holds a Master of Towing on Inland Waterways (MMC). Thomas spent five years as a trip pilot and joined SCI's Center for Maritime in Education as an Instructor in January 2018.
Captain Kelly Fitzpatrick
Instructor, CME-Houston
Captain Kelly Fitzpatrick brings nearly ten years of experience in the maritime industry to her role at CME Houston. Most of her experience has been on towboats pushing chemical barges on the Western Rivers, Gulf Intracoastal Waterway, and inland waterways, where she previously worked as Relief Captain for Kirby Inland Marine.
Capt. Fitzpatrick graduated with a BS in Marine Operations from New York Maritime College. She brings a scope of knowledge spanning both inland and offshore aspects of the industry. Her licenses include Master of Towing, Great Lakes, Inland Waters, and Western Rivers; Master Unlimited, Inland Waters; and Second Mate Unlimited, Oceans.
Captain Jacob Horman
Assistant Director/Instructor, CME-Paducah
From Metropolis, Illinois, Captain Jacob Horman started his career in the river industry in 2009 at the Olmsted Dam project, where he eventually earned his pilot's license. Jacob has experience working for American Commercial Barge Line, Tennessee Valley Towing, Marquette, and most recently with CGB Waterfront Services in Cairo, IL, where he was a Fleet Captain conducting fleeting operations and line haul work on the Ohio, Cumberland, and Tennessee rivers.
Captain David T. Howell
Assistant Director/Instructor, CME-Houston
Having worked on the waters for three decades, and the majority of that time as a captain, Captain David Howell brings wide-ranging experience and knowledge to his position as Simulator Instructor at SCI–Houston. A lead or senior captain for most of his career, Captain Howell worked on supply boats, offshore towing boats, and wire boats for 24 years. He has experience up and down the east coast, gulf coast, and many ports internationally. Capt. Howell spent several years at John E. Graham & Sons, Mag Marine Service, Brown Water Marine, Bud's Boat Rentals, and North Bank Towing training and mentoring younger mariners. Before joining SCI, he worked as Lead Captain at Buffalo Marine Service, where his leadership impacted the budding careers of many towboat crews.
With training in first aid, water survival, and hazmat, Captain Howell holds a number of licenses and certifications, including US Coast Guard Master 200 Ton Near Coastal, US Coast Guard Master of Towing Vessels, Western Rivers and Inland Waters, and Unlimited Radar. He is a US Coast Guard Designated Examiner and a Qualified Assessor.
Matthew Hyner
Simulation & Database Manager, CME-Houston
Matthew Hyner brings his background in computer graphics and multimedia development, specializing in the use of real-time 3D computer environments and Geographic Information Systems. A graduate of Pratt Institute's Department of Computer Graphics and Interactive Media, he has worked over the years on simulation projects, focusing on urban planning, architecture, and training in the past for several government agencies, educational institutions, and private corporations including The FAA, US Air Force, Department of Transportation, Federal Transit Authority, and Housing and Urban Development.
Since joining SCI, he has worked with CME's instructors and training partners to upgrade and develop new areas and vessels to be used on our simulators in Houston and Paducah. With his experience working in the Architecture and Engineering community, Matthew has been able to assist several engineering firms who have contracted SCI by conducting feasibility studies for several maritime construction projects, which posed possible hazards to marine navigation and safety.
Lisa Nally
Business Relations Coordinator, CME-Houston
Lisa came to SCI in 2016 to spearhead the development of the e-learning program. She brings her knowledge of digital media and online learning, along with almost 10 years of experience in the maritime industry. Lisa previously worked at CDP and Kirby Inland Marine. While at CDP she worked closely with SCI to support CME customers as they completed their annual training, so joining SCI was a natural step for her.
Graduating with a BA in Religious Studies and Ancient Mediterranean Studies at Trinity University, Lisa is currently in the process of attaining a Master's in Digital Media at the University of Houston – Clear Lake.
William (Buck) Viniard
Building Facility Coordinator and Simulator Operator, CME-Paducah
Buck has been employed with SCI's Center for Maritime Education since the opening of the Paducah facility in 1997. In addition to Buck's current position as Building Facility Coordinator and Simulator Operator, he also maintains a level 2 maintenance certification on the Polaris simulator. Buck is actively involved with the emergency services: he is a 26 year, 400+ hour certified Firefighter, and he was an EMT with his local ambulance service for 20 years. Buck is married to Carissa, his wife of twenty-eight years, and has two sons, Tyler and Cody.
SCI has conducted informal mariner training since 1899 and mariner education since World War I. When retired sea captain Robert Huntington directed SCI's Navigation and Marine Engineering School in February 1916, instruction included nautical astronomy, navigation, marine engineering, mathematics, seamanship, and signaling. The school targeted seamen hoping for career advancement as well as those who dreamed of going to sea, encouraging many young men to enlist in the Navy: "Any person who wishes to follow the sea should join the United States Navy…. The fact is that if any young man has the right kind of American push in him the Navy is the best place to bring out and develop all the good points that are in him," one school circular proclaimed. For those already enlisted in the Navy, the school offered preparation for the Naval Academy's highly competitive entrance exam. "Out of the large number of applicants only the top one hundred (100) obtain appointments, so that every candidate should prepare himself to pass the best examination possible," read the brochure.