"With his deep experience and a teacher's heart, Captain David Howell is a hugely valuable asset. As Director of the SCI Center for Maritime Education, I believe he is the best assessor for our customers, not to mention the best in the business! We at SCI are excited about our ability to support mariners, our key stakeholders, and the maritime community in finding the right people, boosting them in their career, and helping all of us to learn from mistakes." — Captain Stephen Polk, MNI, Director of CME/Instructor
CME's TRANSAS is a dedicated simulation suite for:
Assessments
Personnel evaluations
Corrective action implementation
CME conducts mariner assessments in a private environment tailored for one-on-one mariner skill appraisal. The Transas simulator suite contains a single full-mission bridge pilothouse and debriefing area designed to work independently from SCI's existing five-bridge Kongsberg simulator. The smaller footprint of the simulator allows SCI to offer exclusive individualized instruction at a reasonable price.

Safely Evaluate Behavior in High-Risk Situations
The environment of the simulator replicates many conditions on the water that are limited in real-world training and evaluation including high-risk and seasonal scenarios. Steersmen have the opportunity to ask questions, and even to fail, and learn from mistakes made in a safe environment. Towing Officer Assessment Record (TOAR) items, Subchapter M towing vessel regulations, and the Tanker Management and Self Assessment (TMSA) guidelines can be performed in the Transas. Maritime transportation companies may choose from a catalog of simulations matching standardized exams and requirements.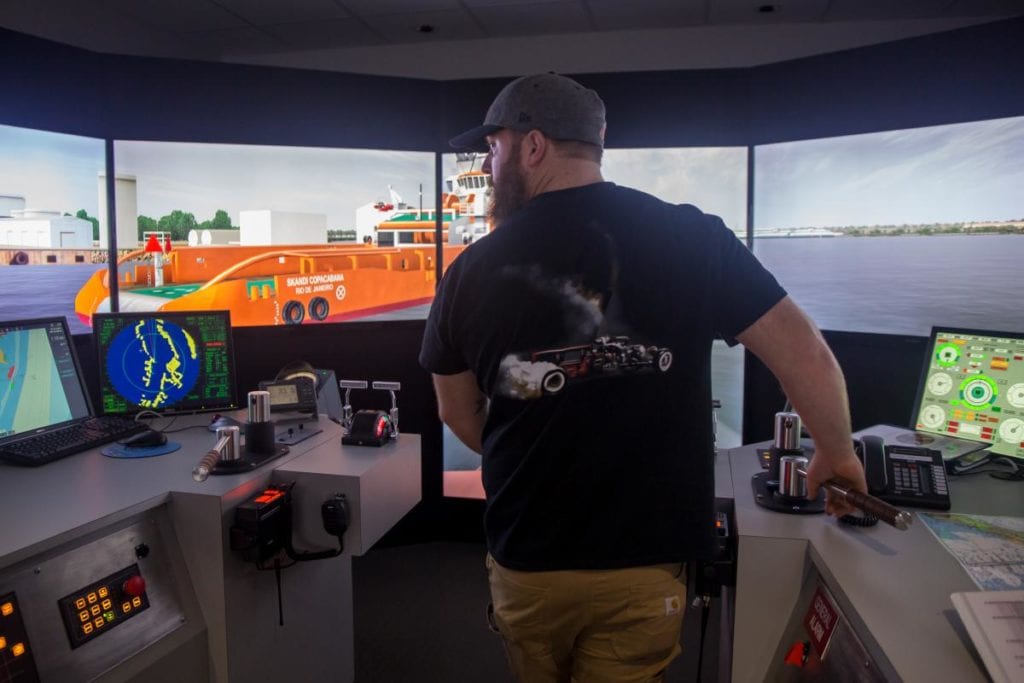 New Hires, Employee Promotions, and More Human Resource Functions
Maritime transportation companies can also employ the unique encounters available in the simulator to assist in identifying candidates for hiring and promotion decisions. The Institute's tool allows a Designated Examiner or Port Captain to evaluate performance in various scenarios. CME can also provide this service as a third party objective aptitude assessment. Further, because it is a clear demonstration of a company's investment in personal development, CME training can have a major positive impact on a company's attraction and retention of top talent in the industry as well as company morale.
Example of a Useful HR Application
CME can conduct pre-hire assessments for potential candidates which could lead to a pre-employment conditional offer pending the successful outcome of the simulation. This process offers several advantages:
Verify job application written statements: If an applicant cannot perform, it becomes obvious within the first few minutes on the simulator.
No risk for poor performance: Equipment is not damaged, cargo is not spilled, and no disciplinary measures need to be taken if the person does not perform well.
Opportunity for the top mariners to shine: CME's detailed report can highlight the strengths of the candidate.
In addition, this simulator environment can assist maritime transportation companies of varying sizes in efficient and cost-effective corrective practices or to round out an individual mariner's experience. Online and digital training can be highly instrumental in change management.
"To err is human, but in our no-fail, zero-risk industry, prevention is paramount. Therefore, we all must learn not to make the same mistake twice. By re-creating incidents and running exercises that resulted in a near-miss or a casualty, and investigating what went wrong, it is possible to discover operational gaps relating to procedures, property, or people. Simulation reports can then be published to the fleet or bulletin so that the whole organization can benefit from the exercise." — Captain David Howell